Get $50 Off Your First RV Rental!
Click the button below to view RV rentals now and get $50 off!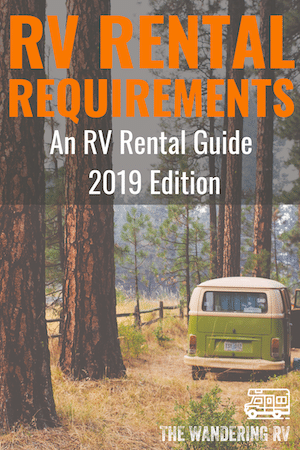 Wondering how old you have to be to rent an RV?
Or maybe you're not sure if you need a special license to drive RV rentals.
In this guide, we go over RV rental age requirements, insurance, tips for renting an RV, and more!
What are we waiting for? Let's dive in!
Table of Contents
Note: Some of the links in this article are affiliate links. This doesn't cost you any more than normal. Read our disclaimer for more info.
How Old Do You Have to Be to Rent An RV?
Most RV rental companies require you to be 25 in order to rent an RV from them.
​However, some rental companies will allow you to rent an RV if you're 21 (but there will typically be a fee you have to pay if you're under 25).
Keep in mind that the age to rent an RV differs depending on what state you live in! Here are some RV rental companies who allow you to rent an RV under 25:
El Monte RV requires you to be at least 21 depending on the branch location (call ahead to check). You need a valid credit card, not a debit card. They also require you to get an insurance binder from your own company or a third-party insurance provider.
Certain Cruise America locations have RV rentals for under 25 renters. However, they do have an additional surcharge for anyone under 25. Contact them before you rent to determine the exact prices.
The Road Bear RV website says anyone between 21 and 24 can rent with prior authorization. Again, call ahead to find out exact prices.
Who's Best? – Wondering which RV rental company to rent from? See our Outdoorsy vs RVshare comparison here.
What Happens If You Break the Age Restriction Law?
Let's say you're 24 and the RV company you want to rent from has a strict age limit of 25 – but you're turning 25 in two months.
If you lie about your age and get caught, you could get into serious trouble and face repercussions such as:
Fines & lawsuits
Revoked license

​

​
In extreme cases, you could be looking at some jail time for lying about your age.
If you want my opinion, breaking the RV rental age requirement isn't worth it.
What Do You Need to Provide When Renting an RV?
Most RV rental companies only ask you to provide a valid license and a credit card when renting an RV.
There are some rental companies that will also ask you to provide…
Your employment record
A credit reference
Any foreign passports you may have
Please Note: Temporary licenses are usually not permitted when renting an RV.
Do You Need A Special License to Rent/Drive an RV?
When Bill and I were full-timing, one of the most frequent questions we got was:
​"Oh wow! Do you need a special license to drive your rig?"
It was always shocking to hear that: No! You don't need a special license to drive an RV (no matter the size) in most states.
The "special license" you may be thinking of is a CDL (also known as a commercial drivers license). They're issued to people who drive large semi-trucks, flatbeds, tank vehicles, and more.
Please Note: Some states DO require a special license to drive RVs over a certain weight. See this article for the specifics.
Top 5 Tips For Renting An RV
Before we end the article, I wanted to share a few quick tips for renting an RV.
Have a few tips of your own? We're sure our readers would love to hear from you in the comment section below!
Tip #1: If you're driving the rental, be extra careful.
Think of it this way: You're driving someone else's temporary home.​
Go under the speed limit if you have to. Be extra cautious when you're taking wide turns, and above all else, make sure you're comfortable driving the rig before you take off.
When renting from peer-to-peer companies such as Outdoorsy, you're able to find renters who will gladly drive their rig to you so you don't have to do any of the grunt work. They'll even set it up for you!
Tip #2: Practice parking the RV before you get to your RV site.
If you're comfortable driving the rig, but aren't sure how to maneuver yourself into your spot at a campground, make sure you practice wide turns in an empty parking lot.
It know it sounds silly but it's better than accidentally scraping someone else's rig while your'e trying to pull into your site!
Tip #3: If you're renting for a while, be prepared to get a bit… dirty.
I'm not talking about mud here, folks. You've got to be comfortable emptying the grey and black water tanks when you're RVing!
The grey water tank holds water from the sink and shower – the black water tank is what hold your waste (yeah, we mean poop).
If you don't empty these tanks out, you're in for a few problems!
Tip #4: Save money by planning your meals when you get to the camper.
You're already going to be spending a fair bit of money when renting an RV (the rental, campground, and activity fees add up quickly).
The last thing you want to do is spend money on take out everyday! RV refrigerators are pretty small, so you won't be able to keep a lot of food in them. However, you can meal plan every few days and go on light grocery runs when you're running low.
It's a pretty simple tip, but an important one!
Tip #5: Enjoy yourself and be respectful!
You're renting an RV to explore and enjoy! Leave your worries at home, keep your stress under lock and key, and have as much fun as you can while on vacation.
Remember to clean up the RV rental before returning it to the owner – and be respectful! Thank them for allowing you to stay in their RV and share some of your favorite memories (if you feel comfortable around them).
Where to Go From Here
Ready to rent an RV for yourself?
Bill and I have an awesome deal from Outdoorsy – $50 off your first rental!
Simply click the link below to claim your offer and enjoy your trip.
Get $50 Off Your First RV Rental!
Click the button below to view RV rentals now and get $50 off!