Get $50 Off Your RV Van Rental!
Rent with Outdoorsy to get $50 off (discount applied at checkout).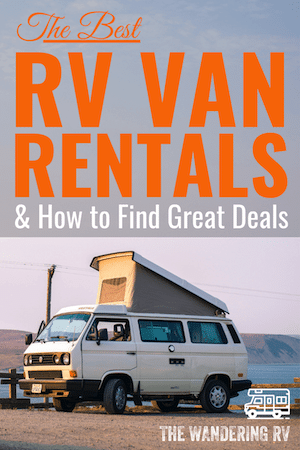 Interested in an RV van rental and want the absolute best deal possible?
We were too – so we researched how to get the best RV van rentals at affordable prices!
We found some awesome pros and cons, how much it costs to rent an RV van, and so much more.
Click here to browse the best RV van rentals near you now, or keep reading to learn our top tips!
Table of Contents
Note: Some of the links in this article are affiliate links. This doesn't cost you any more than normal. Read our disclaimer for more info.
RV Van Rentals vs Other RV Rentals
RV van rentals are an amazing way to experience an RV vacation. Compared to other recreational vehicles like motorhomes or pop-up campers, RV vans allow you to go virtually anywhere! From San Francisco to Salt Lake City or New York.
Let's dive a little deeper into the pros and cons of RV van rentals:
Pros for Renting an RV Van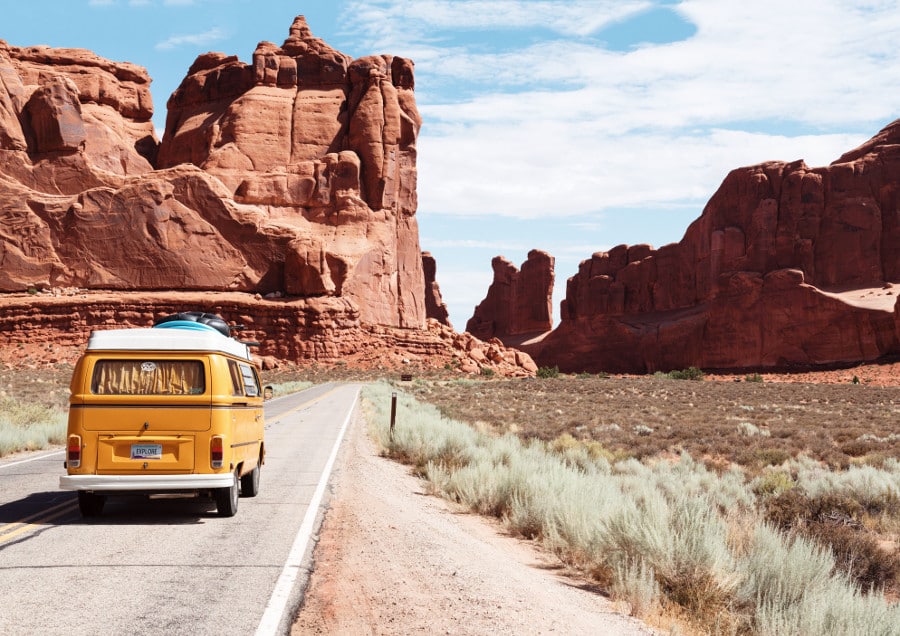 They're easy to drive.
A lot of people get worried when they hear the word "RV". Mainly because the first thought that pops into their head are these giant recreational vehicles that are unlike anything they've ever driven before.
Luckily for you, RV vans are just that: vans!
You don't have to attach a rig to your truck (or vice versa) and they're easily accessible! I highly recommend looking into an RV van rental if you've never RVed before.
You can go virtually anywhere. 
Because RV vans are so small, you're able to go pretty much anywhere you'd like! Whether your ideal location is the middle of the desert, on top of a mountain, near a waterfall, or on the beach, as long as you have gas in your tank and provisions to keep you going for a day or two, you're able to stay!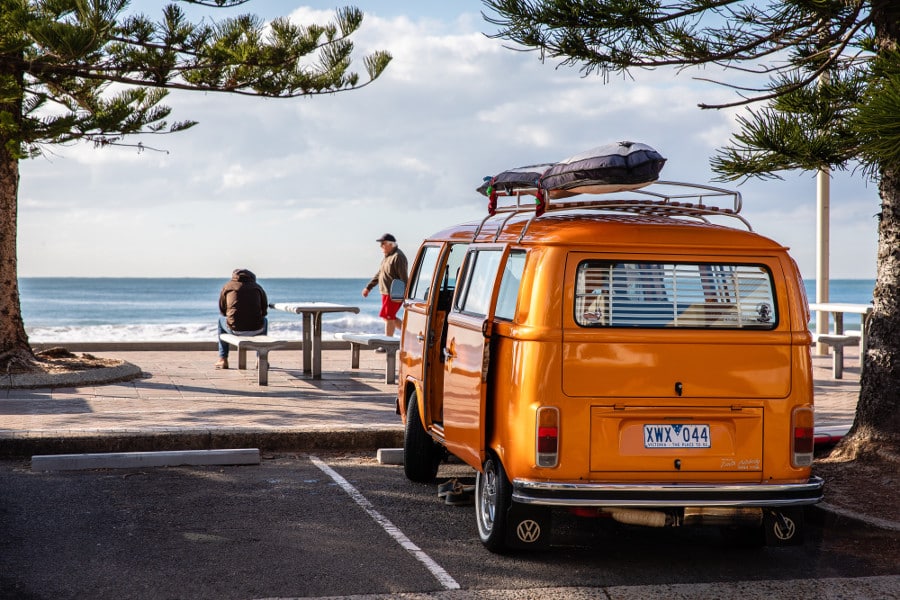 You can go stealth camping.
This has to be one of my favorite pros—you don't take up a lot of space with an RV van which makes these vehicles perfect for stealth camping! I can't tell you the number of times Bill and I had to pull into a Walmart parking lot to sleep overnight (these things happen whether you plan them or not).
If we had an RV van, I wouldn't have felt bad about staying overnight mainly because we wouldn't have taken up two (sometimes three) parking spots!
An RV van takes up one spot (maybe two if you've got a big one) and can squeeze into nearly any parking spot.
Cons of RV Van Rentals
Of course, there are multiple types of RVs for a reason! Each has its cons. For RV van rentals, those cons are…
Buying a campervan can be expensive
Not looking to purchase an RV van? Cool—you can skip over this one!
If you are interested in buying one, however, you may find your wallet looking a bit sad after your purchase.
RV vans are beautiful and well worth the money, but the cost to purchase one can range anywhere from $60,000-$225,000 depending on how small, large, or fancy you want it to be.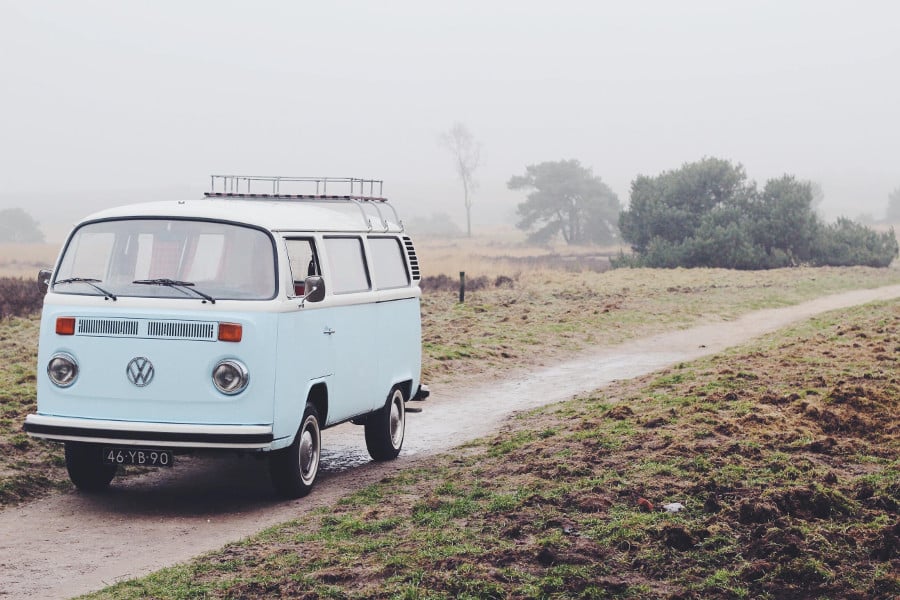 No bathroom in the camper.
One of the cool things about motor homes is that you can get up and use the bathroom or work on your laptop while someone else is driving. But in many RV vans, you're out of luck!
This may be a small problem, but when it's the middle of the night and you have to go, it's a pain in the butt! Though there are quite a few camper vans with bathrooms to choose from, so you may not have to deal with this.
Your living space can get pretty cramped.
Nearly all of the RVs that Bill and I have gone in have been too cramped for us (with the exception of fifth wheels).
We couldn't see ourselves living in an RV van, especially because we have our cat, Luna. Even if we didn't have Luna with us, it'd be too small for us.
There's not a lot of walking room and, if I'm being honest, camper vans feel like giant boxes to me.
But, if you're a fan of small campers, check out these 10 ultra-lightweight campers!
If you're someone that loves clothes, souvenirs, or more space in general, RV vans are not for you (to live in, that is). Being easy to drive comes with its cons!
RV Van Rental Prices
How much does it cost for an RV van rental?
We recently partnered with Outdoorsy and did a study to find out how much it costs to rent an RV. We found that, on average across the US, pop-up camper rentals cost between $75 to $150 per night to rent.
However, you can find them cheaper or more expensive depending on the rental location, time of year, model, and age of the RV. Some people allow you to rent their RV vans for just $50 per night!
And if you rent long-term (a month or more) you can often get even lower rates.
Where to Rent an RV Van Near You (Best Deals in 2023)
We've found that the best place to find an RV rental is Outdoorsy.
Outdoorsy offers RV rentals by other RV owners. It's like the Airbnb of the RV world. Peer-to-peer RV rentals like this are great because they're usually more affordable than renting from an RV dealer (we're all about those savings).
Plus, Outdoorsy offers free roadside insurance and up to $1M insurance on all their rentals! They also have 93% 5-star reviews from over 55,000 customers and have amazing customer support. We've personally rented from them and used their customer service, and can honestly say the experience was fantastic!
They offer RV rentals across the United States—from San Francisco to Salt Lake City, New York, Las Vegas, and more! They also have camper rentals available in other countries like New Zealand or Canada.
Not only can you rent RV vans like the Mercedes Sprinter, but you can also rent motor homes, fifth wheels, pop-up campers, toy haulers, travel trailers, and virtually any kind of recreational vehicle there is for your next road trip.
Why Outdoorsy? Check out our RV rental company comparison where we pit the top RV rental companies (including RVshare and Cruise America) head to head.
Great RV Rental Destinations
Rentals By Type