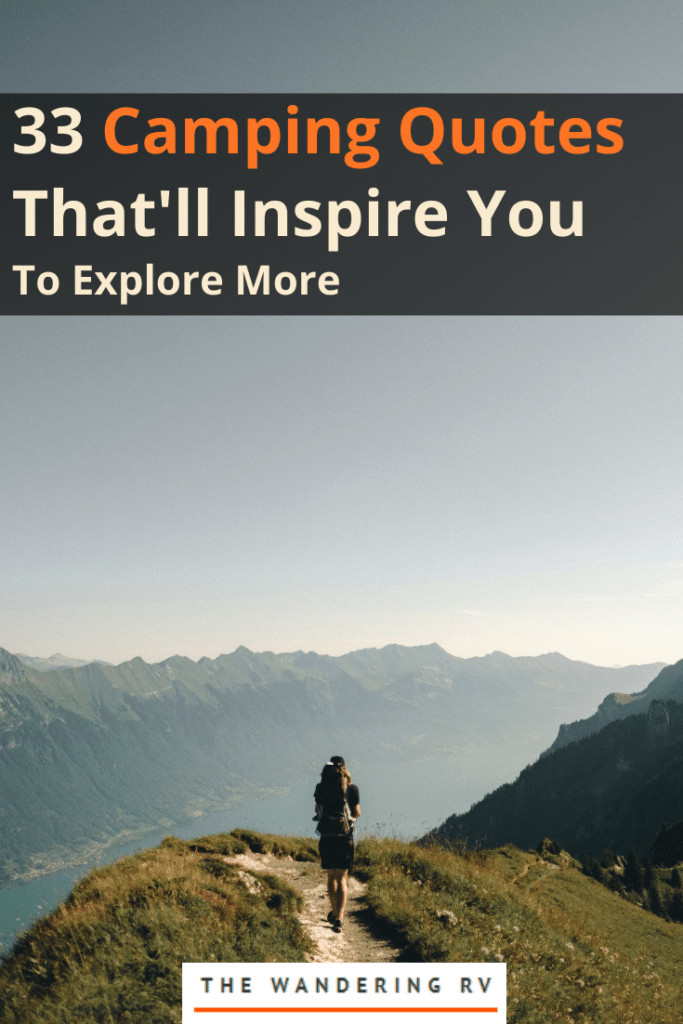 Whether you're looking for a way to express your appreciation to nature or find the perfect Instagram caption, the following quotes about camping are sure to get your gears turning.
This collection of camping quotes is perfect to get you excited for your next adventure!
Feel free to share these on Pinterest or Instagram or anywhere you want to spread your love of the great outdoors.
Table of Contents
33 Quotes About Camping to Inspire You
Below, we've broken down the camping quotes into two sections:
Inspirational Quotes
Funny Quotes
We've got quotes from people like John Muir, Ralph Waldo Emerson, Sylvia Plath, Henry David Thoreau, and more!
20 Inspirational Camping Quotes
The following quotes about camping are sure to inspire you to adventure!
"Of all the paths you take in life, make sure a few of them are dirt." – John Muir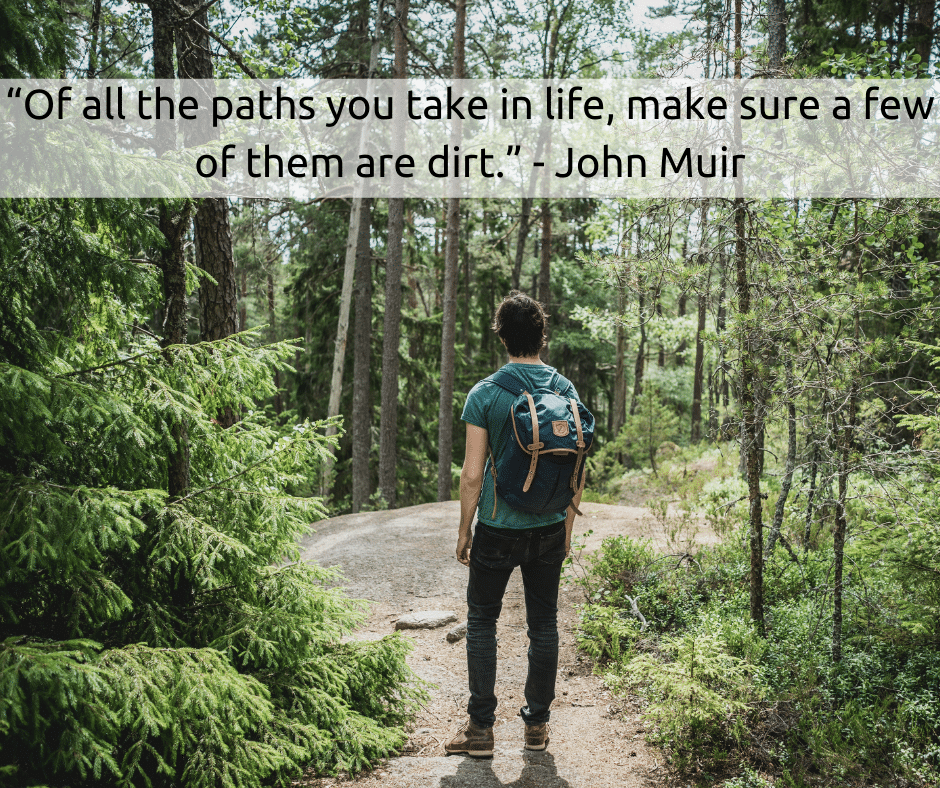 John Muir really hit the nail on the head with this one. It's got to be one of the most basic, yet effective, camping quotes out there. With all of the paths you could take in life (whether it be a job or a lifestyle change), getting out into nature and walking the dirt road does wonders for the human spirit.
"The outside is the only place we can truly be inside the world." – Daniel J. Rice
Before reading this quote, we never really thought about this. Real freedom lies in wildness and there's no better way to connect with what's going on around you than when you're surrounded by golden trees, a mountain campfire, and solitude.
"If people sat outside and looked at the stars each night, I'll bet they lived a lot differently." – Bill Watterson
One of the most satisfying moments for us is being able to look up at the night sky and look for constellations. When was the last time you did this? If it's been awhile, we highly recommend doing it on your next ultimate camping trip.
"Adopt the pace of nature: her secret is patience." – Ralph Waldo Emerson
You don't need to follow a ton of camping rules to have a soul enriching trip. We have our entire lives ahead of us, make sure you stop to be mindful once in a while. There's no better place to do this than nature.
"There's a sunrise and a sunset every single day, and they're absolutely free. Don't miss so many of them." – Jo Walton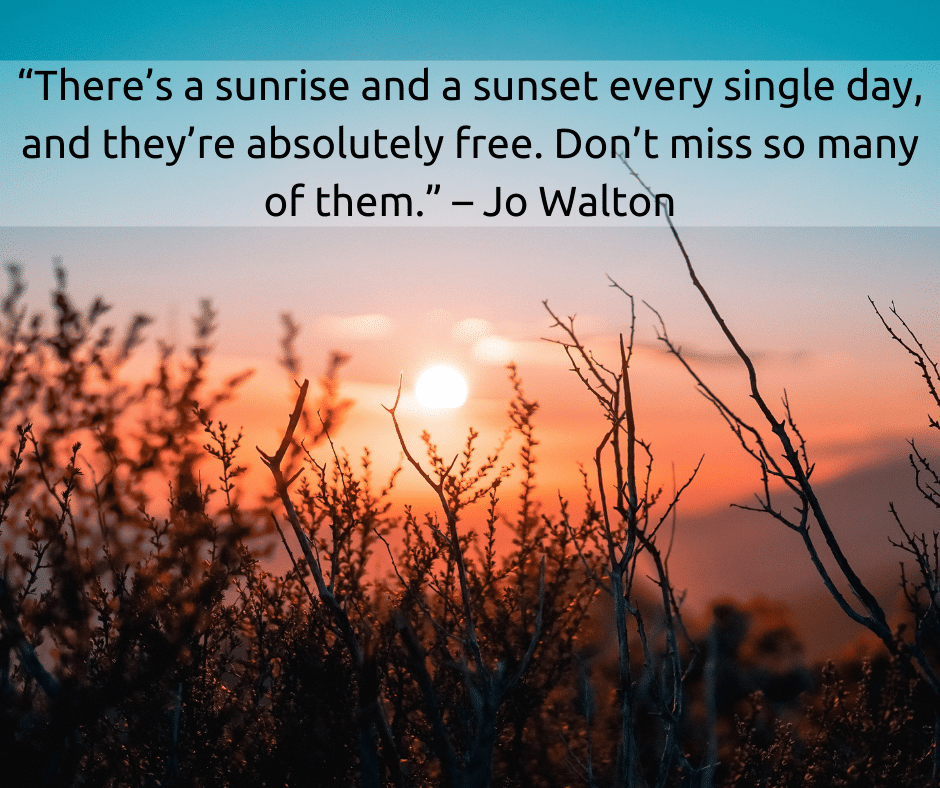 This quote almost brings us to happy tears! It's easy to take the little things for granted, but the sunrise and sunset are two constant things we have to look forward to each day.
"And at the end of the day, your feet should be dirty, your hair messy and your eyes sparkling." – Shanti
This quote from Shanti makes our soul smile. Real freedom lies in being able to be the best version of ourselves. There's no better way to reconnect with this version of yourself than doing what makes your spirit happy.
"I felt my lungs inflate with the onrush of scenery. Air, mountains, tree, people. I thought: this is what it is to be happy." — Sylvia Plath
It's true – there's nothing like a camping trip to reset your mind. It's hard to have a bad day camping, especially when you're surrounded by beauty.
"In a cool solitude of trees, where leaves and birds a music spin, mind that was weary is at ease, new rhythms in the soul begin." — William Dean Seymour
We're telling you – cleansing your soul in nature is sometimes better than a hot shower. Get that tent pitched and let your soul begin to heal itself.
"Whatever form it takes, camping is earthy, soul enriching and character building, and there can be few such satisfying moments as having your tent pitched and the smoke rising from your campfire as the golden sun sets on the horizon, even if it's just for a fleeting moment before the rain spoils everything" – Pippa Middleton
This might be one of our favorite camping quotes out there. There's nothing quite as calming as seeing the morning sun after a night of camping, nor is there anything that builds your character quite like a long hike, stealth camping, or a few days spent camping.
"Nature has been for me, for as long as I remember, a source of solace, inspiration, adventure, and delight; a home, a teacher, a companion." — Lorraine Anderson
There are tons of brilliant quotes on camping, but this one hits the nail on the head. There is no better teacher than mother nature (and no better way to find yourself than living quietly in the woods for a few days).
"We can never have enough of nature." — Henry David Thoreau
Henry David Thoreau makes a good point with this quote. You really can't have enough time with nature. For us, we crave the wild as soon as we get back home!
"Leave the road, take the trails." — Pythagoras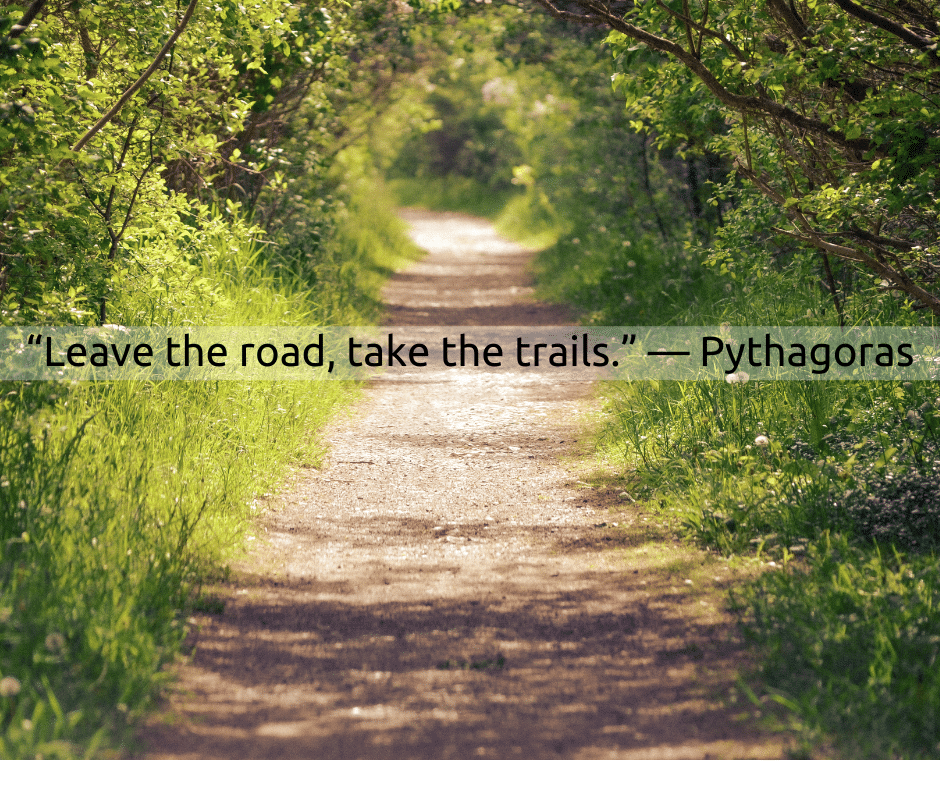 You've heard the quote "March to the sound of your own drum", right? This one is kind of like that. Get off of the main road for a while and explore some trails. You never know what you might find!
"The world is big and I want to have a good look at it before it gets dark." – John Muir
If there's one thing we can all agree on, it's that John Muir has a way with words. His quotes on camping are incredibly relatable (as well as insightful). Before your world gets dark, you should explore it! There are thousands of places to visit – what's first on your list?
"Light a campfire and everyone's a storyteller." — John Geddes
You've got that right, John! Some of the most insightful conversations we've had with our friends and family were around a campfire.
"The wilderness holds answers to questions we have not yet learned to ask." – Nancy Wynne Newhall
Imagine yourself sitting around a campfire, the smoke rising into the night sky, and all of a sudden you feel at peace with your life. You're finding answers to questions you didn't even realize you had, just by being in nature. This is more common than you may think!
"Now I see the secret of making the best person, it is to grow in the open air and to eat and sleep with the earth." — Walt Whitman
We agree with you, Walt. Having your meal prepared and eating food outdoors makes for an awesome camping trip. There's nothing like living in the cool solitude of trees for a few days!
"I would rather own little and see the world than own the world and see little of it." -Alexander Sattler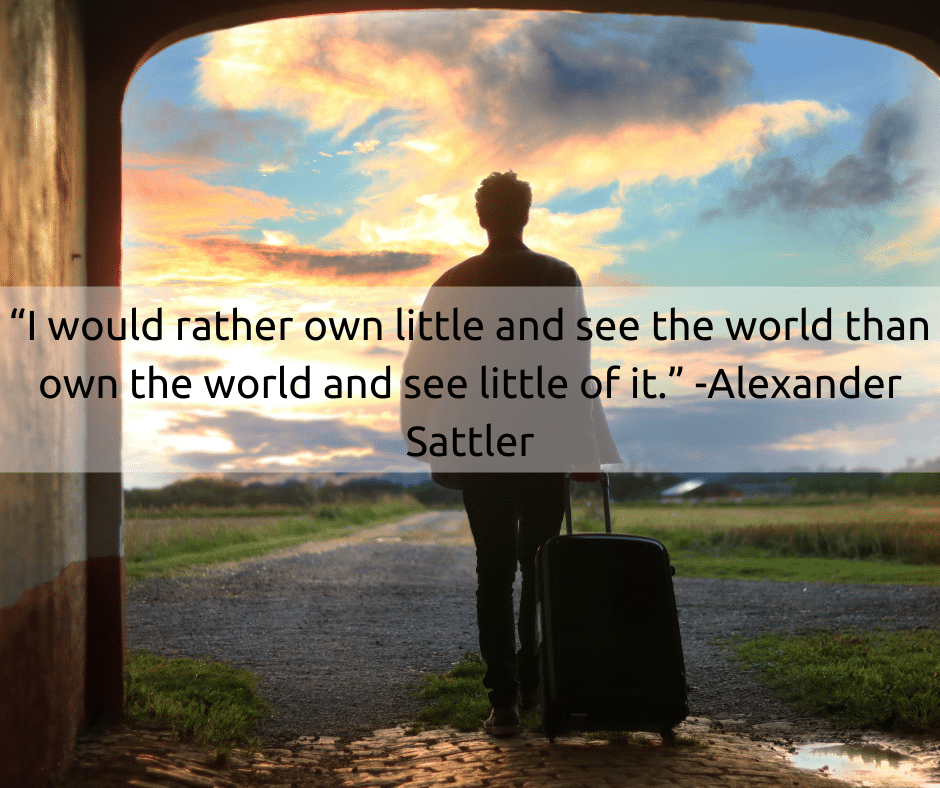 Out of all of the camping quotes we're sharing, this one is in our top 3. Materialistic items won't matter as much to you when you're looking back at life. Memories, however, last a lifetime (and then some).
"In nature, nothing is perfect and everything is perfect. Trees can be contorted, bent in weird ways, and they're still beautiful." — Alice Walker
Everyone sees things in a different light. What's beautiful to you might be overlooked by someone else. Those lovely, dark, and deep woods that you've become entranced with hide beautiful secrets that are just waiting to be explored.
"In every walk with Nature one receives far more than he seeks." – John Muir
Next time you're in nature look at the sky, woods, and fields around you. Freedom lies in wildness – let yourself connect with nature to become the best person you can be.
"There's no Wi-Fi in the mountains, but you'll find no better connection." – Unknown
Be honest with yourself for a second here. There's nothing that will clear both your weary mind and restless soul quite like not having Wi-Fi for a few days. The wilderness holds answers to questions you might not even know you have, being disconnected from the hustle and bustle of everyday life will allow you to be more connected to yourself.
13 Funny Camping Quotes
These funny quotes about camping will make you laugh, so share them with your friends!
"Camping is nature's way of promoting the motel business." – Dave Barry
Honestly, we'd rather spend our night on an uncomfortable air mattress than in a motel! Dave Barry made us laugh pretty hard with this quote – it's funny and incredibly true!
Just like motels, there are a ton of ways to go camping! From large Class A's to small pop up campers, you don't have to pitch a tent to enjoy camping in nature anymore!
"The stars were better company anyway. They were very beautiful, and they almost never snored." — David Eddings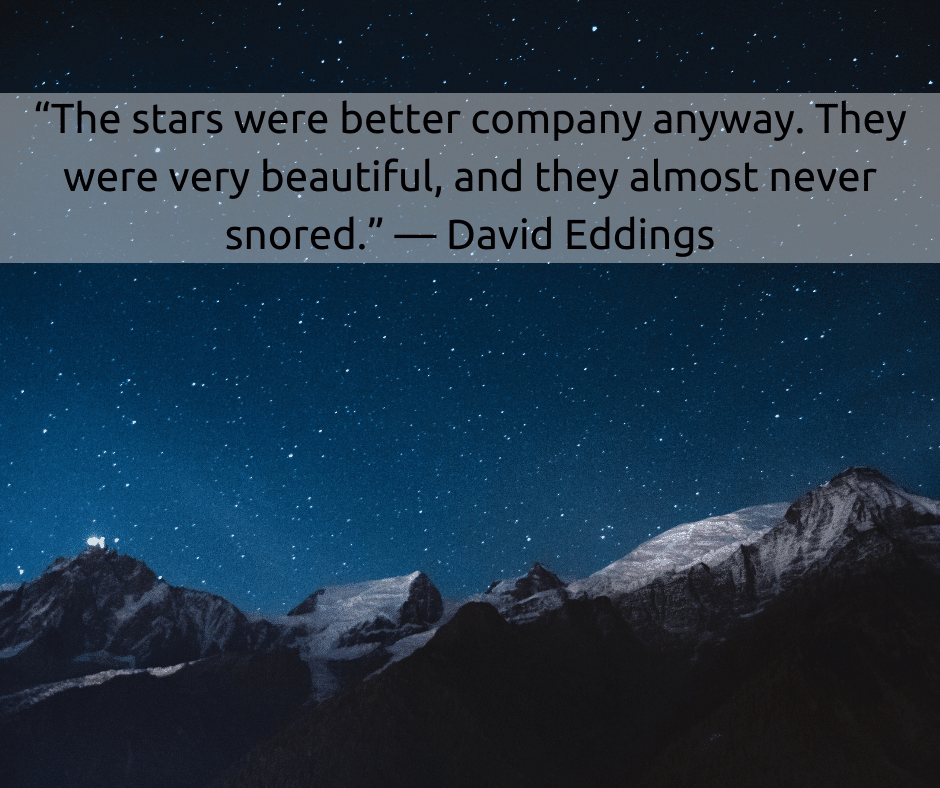 If you can survive camping with someone that snores… you're a trooper. We don't often think about these little things before going on a camping trip, but when you're huddled up in a tent with someone that snores… it'll take everything in you to stay calm, cool, and collected! Maybe camping on your own would have been a better idea…
"The normal storyline of a horror film or a slasher film is the young, beautiful college folks go camping and get systematically killed by the person in a mask. So that's how it normally is." – John Schneider
This is one of those funny camping quotes that we would like to not think about while camping, right? No one wants to imagine that as they're huddled around a mountain campfire. someone wearing a mask is going to pop out of the bushes and kill them! Let's leave this though to the pros in Hollywood.
"Some national parks have long waiting lists for camping reservations. When you have to wait a year to sleep next to a tree, something is wrong." – George Carlin
George Carlin hit the nail on the head with this one. The good news is you don't have to camp at national parks in order to go camping. But how ridiculous is it that you have to wait on a list to go camping in the first place?! Especially when you can camp for free!
"How is it that one match can start a forest fire, but it takes a whole box of matches to start a campfire?" — Christy Whitehead
This funny camping quote had us laughing pretty hard. Have you ever struggled to start a campfire? Yeah, we have to (it's pretty embarrassing to admit)! We've had more luck lighting campfires using our Solo Stove Campfire, though!
"I don't always move to the other side of the campfire but when I do, the smoke follows me." – Unknown
Honestly, there are few such satisfying moments as when you move to get away from the campfire smoke and it doesn't follow you. Unfortunately, it seems like the smoke follows you more often than not!
"A bonfire is basically just a nightclub in the mountains" – Unknown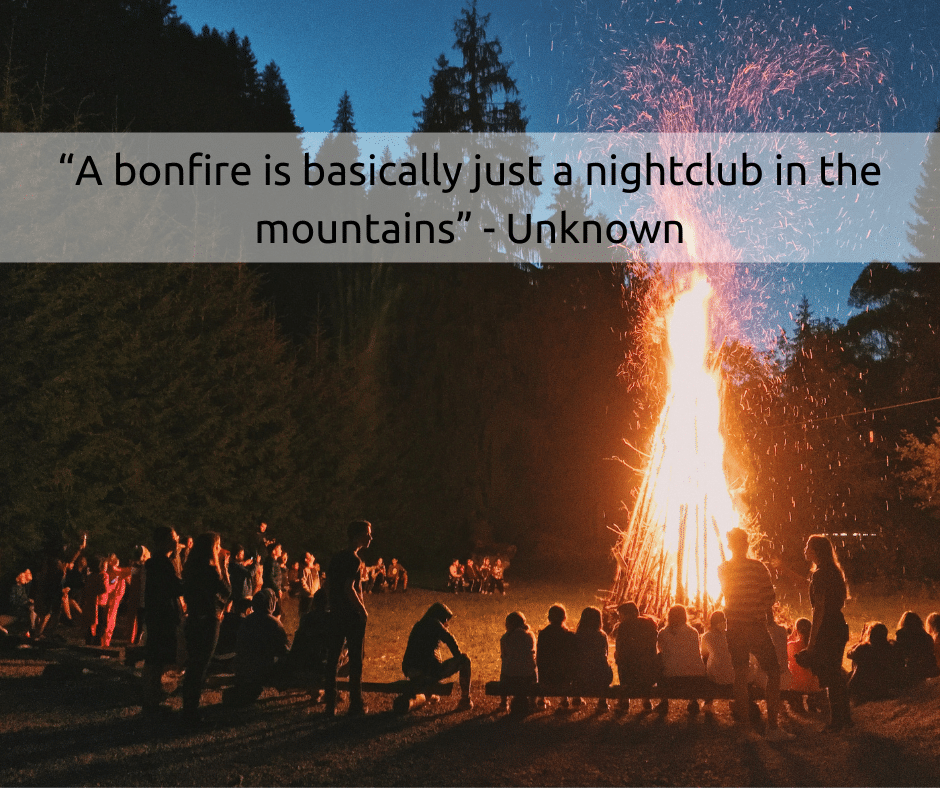 We absolutely love this quote. Imagine spending your entire lives in the middle of the woods dancing around a bonfire while listening to some good music. Now that, my friends, sounds like a great way to cleanse the human spirit.
"Camping is intense." – Unknown
If you're looking for a cheesy but funny camping quote, you've come to the right spot. Camping can be intense but is typically always in tents (see what we did there?).
"Now if only I could talk to forest animals." Unknown
If you aren't one of those people who thinks they could survive camping with someone, but you get lonely after a few hours, this funny camping quote might be for you. Forest animals would never judge your camping hair, how much you may snore, or how many times you eat the same meal over again! Right?
"Camping: The art of getting closer to nature while getting farther away from the nearest cold beverage, hot shower, and flush toilet." Unknown
We've got to say – not having access to a nice shower or the nearest cold beverage makes camp life seem grim. Sometimes getting away from it all is the best thing you can do for yourself though!
"Donating blood, one mosquito at a time." – Unknown
We're calling it now! This is one of the best funny camping captions you could use. Bonus points if you showcase your mosquito bites in any of the pictures you post!
"What happens at the campground gets laughed about all year long." – Unknown
It's funny because it's true. When you go camping with a group of friends and you're all sitting around the campfire, it's easy to get lost in the stories you tell. Some of these stories may be surprising (and funnier) than you think. You'll never have a bad day camping with friends that make your stomach hurt by laughing too hard!
"Camping Is The Answer. Who Cares What The Question Is?" – Unknown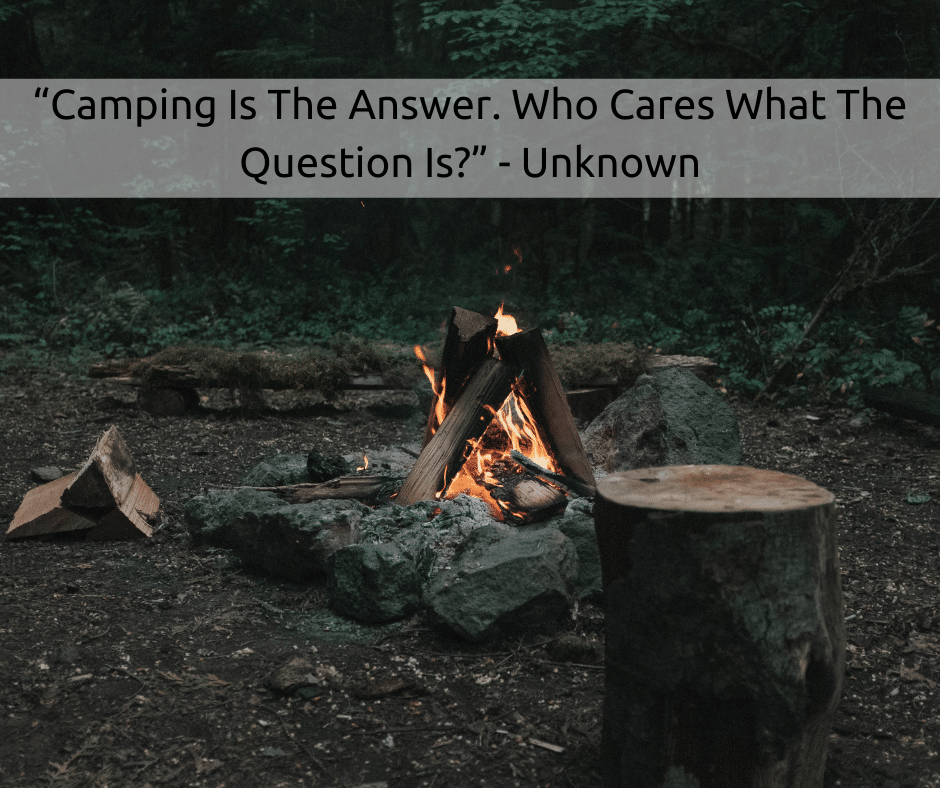 We wholeheartedly agree with this one. The open air, golden trees, fields, lakes, and rivers… it's the answer to everything. When you fully immerse yourself in nature, you'll see that the woods are lovely, dark, and deep – as if they're full of mysteries. Mountains, coffee, campfires, cabins… what more could you want?
Which camping captions do you plan on using in your next Instagram post? Do you like the inspirational or funny quotes about camping the most? Let us know in the comments below! Check out these camping hacks while you're at it, too! Happy camping!
Check out some of our other camping-related content: