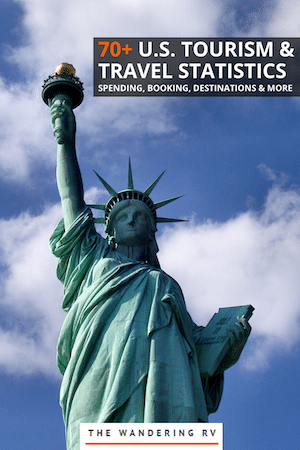 The American tourism industry generates over $1 trillion from domestic and international travel every year as more Americans opt to take leisure and business trips.
Tourism is considered a vital part of many people's lives and, according to US tourism statistics, it contributes to building the economy and creating jobs.
United States travel statistics indicate a steady growth in travel expenditure and is expected to reach over $2.4 trillion by 2028! We've compiled are the most important statistics and trends here for you.
This report shares over 70 statistics and trends in US tourism and travel.
Table of Contents
Essential U.S. Tourism Statistics
In 2018, tourism created and sustained

15.7 million

American jobs.
Americans spend

$932.7 billion

in domestic and

$156.3 billion

in international tourism expenditures.
Americans visit

Europe

most frequently with

17.7 million

annual flights, the Caribbean at

8.7 million

visits, Asia at

6.2 million

trips, South America at

2.1 million

, and Central America at

3.2 million

.
The most popular US city to visit is

New York

with

9.8 million visitors

every year, followed by

5.38 million trips

to Miami,

4.98 million

trips to Orlando,

3.57 million

visits to San Francisco, and

3.33 million

visitors to Las Vegas.
International outbound trips made by Americans every year exceed

93 million

.
Baby boomers travel an average of

27 days

in the US per year.
The tourism industry in the United States is expected to generate

$2.4 trillion

by 2028.
Tourists in the United States spent

$267.7

billion on food,

$109.6 billion

on shopping,

$232.2 billion

on accommodations,

$166.5 billion

on transportation, and

$112.6 billion

on recreational activities.
The vast majority of trips taken by Americans were for leisure at

1.7 trillion

or

73.8 percent

of all trips.
Business travel accounted for

466.2 million trips

or

26.2%

.
Millennials spend the most time on vacation annually, at

35 days

.
Generation Z spends

29 days

while Generation X spends

26 days

on vacation, on average.

2.29 billion

domestic trips are taken annually in the United States by Americans.

79.6 million

non-US citizens visit the United States every year.
The top inbound flights to America come from

Mexico

at

19.1 million

, followed by Canada at

8.7 million

, the United Kingdom at

4.9 million

visitors, Japan with

3.4 million

visitors, and China with

2.9 milion

visitors.
No matter what they are interested in, travelers to the US can find a city or activity that suits their needs. Due to its size, America's cities are vastly different in terms of the environment, weather, and culture. The most popular destination in the US is New York City, which welcomes 9.8 million visitors every year.
Travel spending provides much-needed revenue to support the travel and tourism sector. It helps guard millions of private-sector workers who rely on tourists to keep their jobs.
The most spending that is done in the US by tourists is on food, which brings in an annual $267.7 billion in revenue. Shopping comes at a close second with $109.6 billion spent on retail in the past year.
Quick Links: Navigate Our Statistics
How Many Americans Travel out of Their Country a Year?
35%

of families in America plan trips that are

farther than 50 miles away

from their place of residence.

79.6 million

visitors come to the United States every year, which

increases by 3.5 million

every year.
International visitors mostly planned trips to NYC, Miami, Los Angeles, Orlando, San Francisco, and Las Vegas.
US residents take

93 million trips

to international destinations, which is

increasing at a rate of 6% per year

.
Cross-country road trips make up

22%

of all trips in America.
The most popular road trip destinations in America are: 1. From Las Vegas to the National Parks; 2. From Northern California to the Southern Oregon Coast; 3. North New England; 4. Blue Ridge Parkway; and 5. The Black Hills.
The total number of domestic trips that Americans take number

2.29 billion

annually, with a YTD

increase of 2%

.
Mexico, Canada, the United Kingdom, Japan, and China comprise the

top 5 countries

where inbound flights come from.

24%

of US citizens intend to travel to Europe at some point in their lives.
Americans frequently travel both within their country and to international destinations. Although international travel makes up a smaller percentage of total trips taken, it is responsible for generating the most revenue for the travel and tourism industry.
The American landscape is suitable for different types of vacations. Road Trips, for example, are popular in the country with both residents and visitors. Although numerous routes can be taken, a few, such as the National Park route, Las Vegas, and Northern New England, make for a scenic and fun-filled trip.
Europe is a popular destination for all age US age groups. For example, both boomers and women who traveled alone consider Europe their top destination due to its safety and familiarity.
American cities that have a widespread international reputation through movies, books, and sitcoms are also the most visited. Other than New York, which attracts the most significant number of visitors, Miami, LA, San Francisco, and Las Vegas were the most popular destinations for tourists from overseas.
How Much did Americans and Tourists Spend on Travel Last Year?
Canadians spent the most money, generating

$22.2 billion

for the year.
The most profitable segment for the tourism industry is overseas travel, which generates

84%

of the industry's profit.
New York attracts the most visitors, and international tourists spend

$16.1 billion

there a year.

36%

of Americans preferred to spend disposable income on travel.
US expenditures on international travel reach

156.3 billion

annually, and domestic spending reaches

$932.7 billion

, creating a

$1.1 trillion

industry.
Both domestic and international travelers spent

$761.7

billion on leisure trips.
Summer vacations to the US generate

$101.1 billion

in revenue alone.
Visitors usually stay up to

18 days

in the United States and spend an average of

$4,200

.
Business visitors to the United States contribute

$136 billion

out of

$327 billion

in business expenditures.
Americans spend

$6,080

on international travel per year, on average.
Visitors to the US spend the most on food, followed by accommodations, public transportation, personal transportation, recreation, and shopping.
People who visit America typically spend $4,200 in the country, while Americans spend an average of $6,000 when they travel overseas.
All travelers contribute to the annual international travel economy, which is mostly supplemented by people traveling outside of their countries. Whether they are international inbound travelers coming to the United States or leaving it, most travelers plan their visits for leisure purposes and contribute to this billion-dollar global industry.
The travel and tourism sector of every country relies on the revenue generated by satisfied travelers to create countless jobs and encourage more visits.
How Much is the Travel Industry Worth to America?
The travel and tourism industry is of immense importance to the US economy. It profits the country and its citizens who rely on tourists for income and jobs.
Tourism in the US generates

$170.9 billion

in US tax revenue, of which

$117.4 billion

was spent on leisure travel.

$53.5 billion

is spent from tax revenue on business.
Direct spending on business travel generated

$327 billion

from both international and domestic visitors.
In 2018, inbound travelers to the US helped support

15.7 million

jobs in the tourism industry.

$117.4 billion

from the

$170.9 billion

of tax revenue is spent on leisure travel. The remaining amount is used for business travel.
Out of all US jobs that exclude farming,

1 in 10

connect to the tourism industry.
The United States relies on the travel industry to generate

7.1%

of its private employment expenses
The tourism industry generates

$267.9 billion

in payroll for American employees in that sector
Americans conducted

463.6 million

business trips in 2018, of which

38%

were events and meetings
Direct spending by visitors to the United States generated a total of $327 billion, and it is estimated that these travelers sustain 7% of private jobs in the country. On the other hand, Americans also contribute to the economies of international destinations.
If the travel and tourism industry in the United States suffers, one in ten people employed in private sector jobs is in danger of losing their position. Therefore, maintaining the growth of the American tourism industry and ensuring that it stays up-to-date with the needs of unique travel groups make a difference.
Which American Age Groups Travel the Most?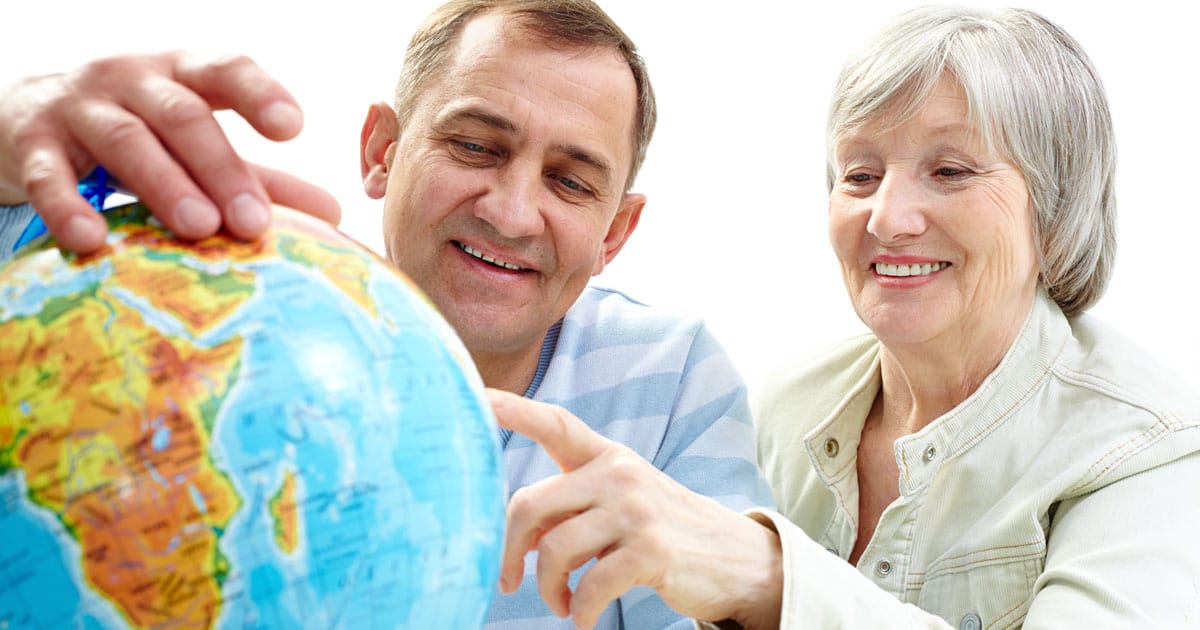 There are different types of travelers in the United States. Each one has unique needs and plans their trips based on their age and lifestyle.
Millennials spend an average of

35 days

on a trip, followed by Gen Z at

29

, Baby Boomers at

27

, and Gen X at

26

.
Ten years ago, only

27%

of Americans had a passport, today

42%

of Americans have one.
American solo women travelers take

three or more

trips annually.
Half of those who travel alone have a college or university degree.
People who prefer to travel alone are likely to do so

three times or more

a year.

62%

of Millennial parents travel with children who are under the age of five.

58%

of Millennials indicated that they wanted to travel alone, and

26%

have already traveled by themselves.

49%

of Millennials book trips haphazardly and often leave it until the last minute.

58%

of Millennials would rather vacation with friends than alone.

Four out of every ten

families plan a trip every year in the US.

42%

of American families prefer taking their vacations during spring break.

80%

of families who travel do so during the summer.
Women are the most active travelers, and they contribute to the growth of several businesses whose primary focus is on them. For example, travel agencies now offer female-only services for women. Millennials are spending more on travel than ever before. Still, the leaders in travel remain the boomer generation, who also spend the most money.
Families also have unique needs and often look for cost-effective outdoor activities to do while they are away. Since families are usually restricted in terms of when they can travel, most families who travel schedule their travels during summer vacation or spring break.
Generation Z is now reaching financial maturity, and they have begun to travel, as well. However, they remain the generation likely to spend the least on and stay the shortest amount of time at travel destinations.
Boomers are considered the most organized when it comes to planning their trips, followed by solo travelers. Boomers do so because they have more life experience and because they may require special accommodations that take their age and health status into account.
As for solo travelers, they are more likely to take precautions due to the nature of individual trips, which requires increased self-reliance, safety precautions, research, and organization.
Women also lead the way when it comes to solo travel. As the group most likely to travel by themselves and to do it often, women are also more likely to be part of the affluent travel class. As frequent users of social media, women rely on these platforms to both give and receive information from other women.
Why do Americans Travel?
Similar to most people around the world, Americans are looking to relax, enjoy their time, and experience meaningful experiences while they are abroad.
51%

of Americans want to avoid routine and daily stresses, and they do so by traveling.
The top reason why

59%

of solo travelers do so alone is that they do not want to feel restricted by others.
Gen Z travel to enhance their life experience at

55%

.

40%

of individuals who belonged to Gen Z traveled for leisure and relaxation purposes.
If given a choice between no alcohol for 12 months and a free heritage trip,

57%

of Americans would forgo alcohol for the trip.

35%

of people who travel cite that food was a significant motivator for them.

42%

travel to see loved ones such as family members.
Among those who traveled internationally,

56%

of them said it broadened their horizons and enhanced their life skills.

42%

of Millennials travel for soul-searching purposes.

23%

of Millennials who traveled internationally expressed their interest in meeting other people.

95%

of families who travel do so for leisure and entertainment.

85%

of families prefer to spend their vacation outdoors.

89%

of families tried to find good deals on their trips before they booked.
Most families planned their vacations at times that wouldn't interfere with school schedules, at

85%

.
Americans take

466.2 million

business trips and

1.7 trillion

leisure trips annually.
The most popular vacation activities on traveler's bucket lists are volunteering at

39%

, followed by food discovery at

38%

, embarking on a mystery journey at

38%

, and heritage trips and sabbaticals at

36%

each.
Different types of trips appeal to different population demographics and their respective financial abilities. For example, those who belong to Gen Z mention that their travel decisions are primarily determined by what they can afford.
Due to the rise of review sites and social media groups that cater to travel, most people can use the internet to search for potential travel destinations. They can also use it to gather information about where to find accommodations and activities to do, and help them make a final decision in their travel plans.
Most people who travel in the United States do so for volunteer reasons. This may be both domestic and international in nature. Other activities include food-based trips that are increasing in popularity both in America and around the world. Considered a cultural melting pot, the United States is home to several groups that have their own sumptuous cuisine and sell it to residents and tourists alike.
Since New York and California have large migrant populations, they are also considered major US food hubs to sample multinational cuisines and even fusion dishes. Other popular types of trips include mysterious or action-packed adventures and heritage trips.
What are the Popular Trending Activities in America?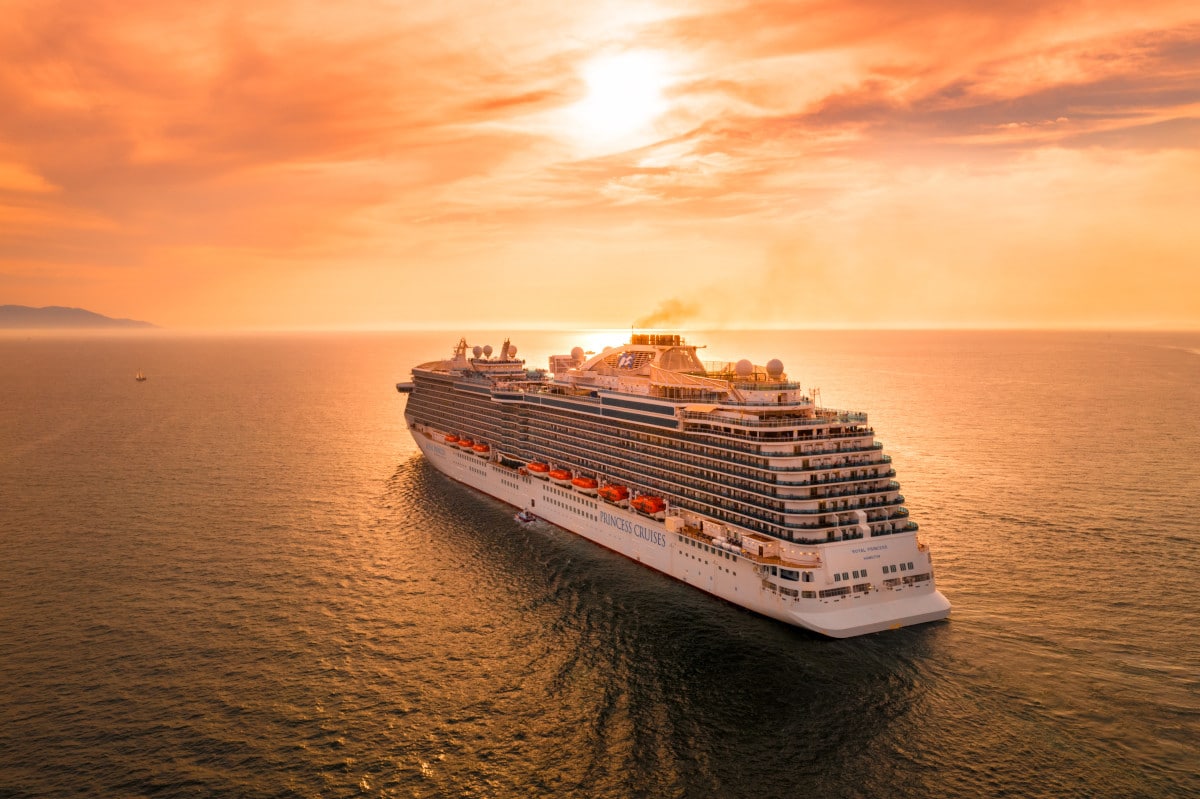 Among visitors in the US,

33%

will opt for a beauty and spa session at some point during their stay.
Relaxing cruise vacations

increased by 89%

in 2019.
Snorkeling and marine-based activities experienced a

64% surge

.

55% more

people are taking sailing trips in the US.
There was a

49% uptick

in rafting and kayaking trips in the US in the last year.

15%

of people who visit America stay at meditation retreats.

46%

of people indicate interest in national parks and sightseeing tours,

49%

want to visit restaurants and historical sights, and

54%

of people visit for shopping.
Among families who travel,

73%

take their children to theme parks with

34%

aiming for a famous park.
Due to its diverse natural attractions and the wealth of activities available from coast to coast, the United States has begun to see trends in the types of activities that people like to do when they visit.
For example, cruise-based vacations in the United States have increased by a whopping 89%, followed by activities such as snorkeling, kayaking, and sightseeing tours. Another popular new travel reason is to be a part of a meditation or mindful retreat.
Since all of these activities can be performed in different places, many tourists visit multiple US cities during their stay. Other times, tourists base their travel on the region. For instance, those who opt to travel to the east coast can visit Florida for a beach vacation, then make their way to New York City, which is only two hours away, for a modern, glitzy vacation in the city.
As for families and travelers accompanied by children, the most popular attractions are theme parks. Although not all families opt to visit the most famous global theme parks, 34% of them make it a point to fit them into their itinerary.
Shopping plays a significant role in travel reasons and expenses. Many people leave the shopping part for the last couple of days before they leave. In fact, shopping is considered to be one of the top reasons why people visit the United States.
How Do Americans Book Their Travel?
Several factors come into play when Americans want to book a trip. Depending on their age group and gender, Americans book their travel in the following manner in the US:
Finances

are considered to be the

most significant influence

in travel-related decisions.
US citizens between the ages of 18 and 24

rely on review sites

as the second biggest influencer on their booking decisions, followed by amenities.
Most people book their trips between

1 and 3 months prior

.
The most last-minute bookings, considered in the time frame of between

2 and 4 weeks

before arrival, are mostly done by men.
The vast majority of US travelers use smartphone applications to navigate a new destination, at

90%

.
When searching for trips on their smartphones or online,

79%

of Americans ended up booking.
Once researched, a hotel has a

65%

chance of being booked on the same day the search was made.
One only has to do a quick search for travel-related apps to find thousands of options that cater to different types of travelers. The travel and tourism industry now understands the importance of apps and smartphones for most tourists and people planning to travel.
Airlines, hotels, and travel agencies place a great deal of emphasis on perfecting their apps so they can cater to the demand of a growing market. Many people nowadays book hotel rooms once they search for them. These hotels have little time to make a lasting impression on their visitors, and often provide the best deals for frequent visitors to both reward them for their business and to encourage them to book more.
Baby boomers are the group most likely to spend a lot of money on leisure travel, as they consider it important along with luxurious and comfortable amenities. Millennials are also big travelers but are more flexible due to their age and exposure to technology. In comparison, it would be more likely for a Millennial or person from Gen Z to rent an apartment for a short time in a foreign country. As for a boomer, they would be more inclined to reserve in a hotel, for safety and amenity reasons.
The travel industry in the United States is thriving, and more people in the country are traveling both domestically and internationally. This trend is expected to stay strong in 2021, especially with the increase in female travel and solo travelers from all genders and age groups.
Sources: Trade.gov, Trade.gov 2, Statista, AAA, TravelLeadersGroup, TravelAgentCentral, MMGY, US Travel, US Travel 2, Phocuswright, Squaremouth, Resonanceco, InternetMarketingInc, PRNewswire, SoloTravelWorld, NYU 1, NYU 2, AARP, TripAdvisor, ShortTermRentalz, Wysetc, Trekksoft, Booking.com, HospitalityNet, StatisticBrain, ThinkWithGoogle
Other statistic pages: