So, you've got the RV of your dreams—your literal home on wheels. The only hitch? Transporting your RV from Point A to Point B without turning into a scene from 'Planes, Trains and Automobiles.'
Spoiler alert: RVs are not your typical sedan, and moving them needs a roadmap of its own. Buckle up as we take you on a navigational joyride through the ins and outs of RV transportation!
What Services Are Available?
RV carriers generally offer three types of transport:
Towing – This form of shipment is common on highways. The RV is towed on a trailer connected to trucks or other large vehicles. Once you arrange the service, the transporter collects the RV and attaches it to the truck before taking it to your destination.
Drive-away shipping – Another common form of RV transportation is drive-away shipping. You hire a relocation company that dispatches a licensed driver. They pick up your vehicle at an agreed location and drive it to the drop-off point themselves.
Hauling – Although hauling is less frequent than the first two methods, it can be a great choice. If your trailer or RV isn't fit for towing or is inoperable, hauling is the perfect option. The provider picks up your vehicle, loads it on a flatbed or lowboy, and takes it to its destination.
What RVs Can You Transport?
Shipping companies like A-1 Auto Transport can transport a wide variety of RVs, campers, and trailers. Here are some of the most common options.
Common Trailers
Transporting RVs with standard trailers is relatively straightforward. There are few (if any) special considerations, as these are lightweight units that can be loaded and unloaded with ease. There are several sub-types of RVs with common trailers, including cargo trailers, travel trailers, and toy haulers.
Shipping A, B, and C-Class Trailers
A, B, and C-class motorhomes rarely need lowboys or flatbeds. Instead, you schedule a so-called drive-away service. As the name suggests, this service involves a driver who picks up your RV and takes it to its destination. 
If the motorhome can't be driven, a shipping company can load it on a trailer and tow it with a truck.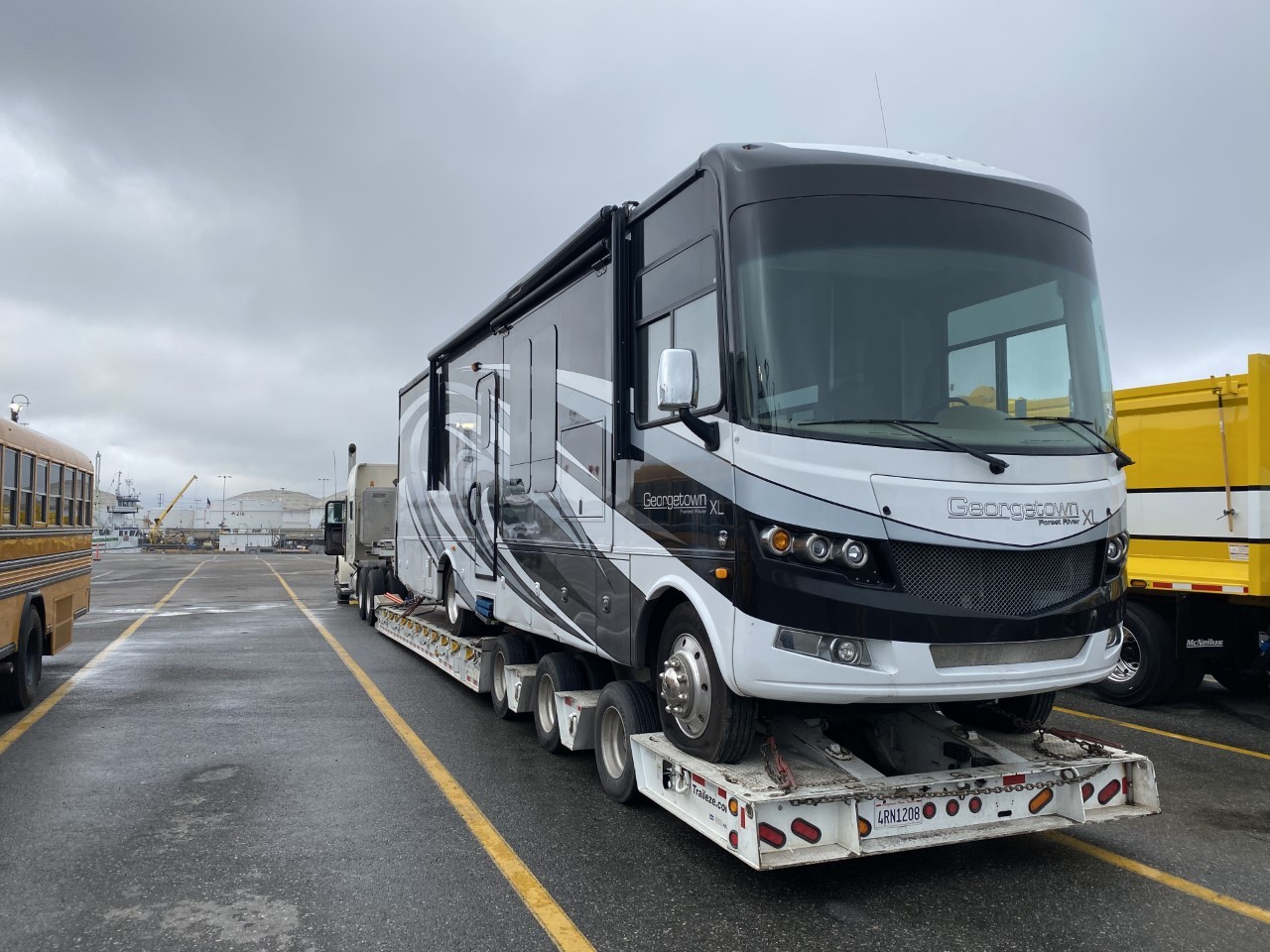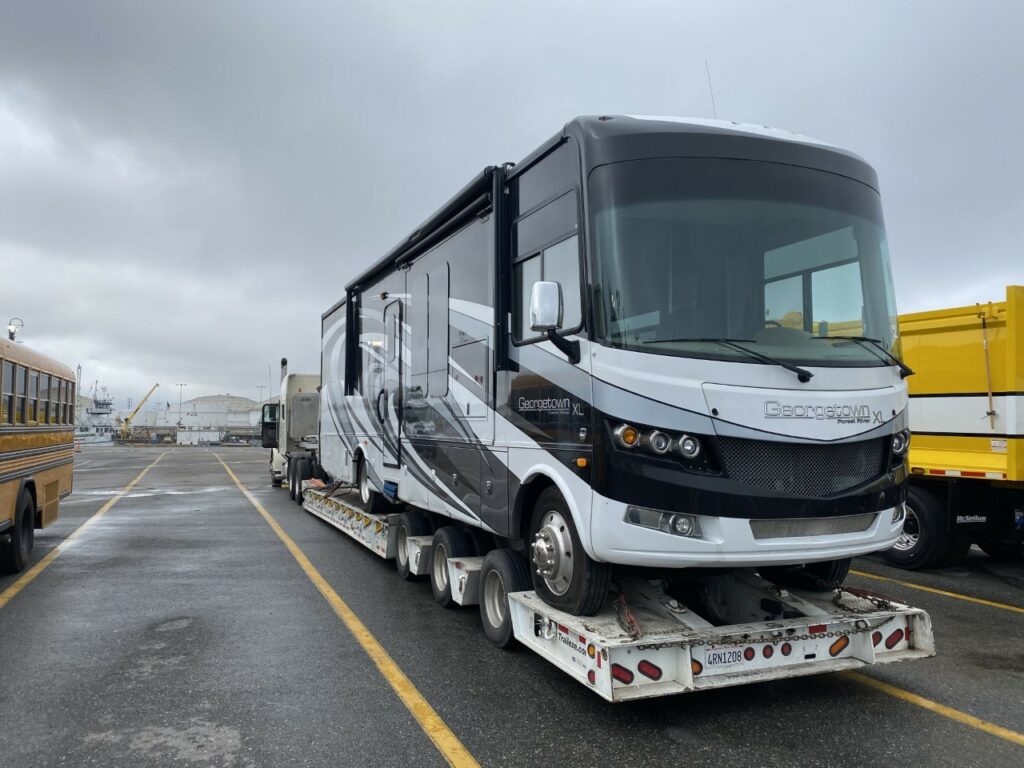 Transporting Fifth-Wheel Trailers and RVs
Most transporters tow 5th-wheel RVs and trailers due to their unique specifications and dimensions. These are usually shipped individually, meaning one vehicle is mounted on a single trailer. There isn't enough space to accommodate multiple RVs. 
What's the Price of Shipping an RV?
In 2023, the average price for moving an RV is approximately $4.50 per mile for relocations under 100 miles. If your journey is 1,000 miles or longer, you'll need to pay about $2.00-2.50 per mile.
In addition to distance, you need to consider a few other factors when estimating the cost of your service:
Type of Service
The RV hauler you choose influences the price of your service. For instance, drive-away services are normally cheaper than flatbed transportation. This is because you only pay for the hours it takes the driver to relocate your vehicle.
That said, flatbed services might be a safer option. The provider secures them on a robust trailer to protect your vehicle from the elements and ensure it arrives intact.
Timing
Urgent relocations are more expensive than standard transportation since the provider has to clear their schedule and prioritize your service. As this is a custom project, the carrier will charge you more. Furthermore, these usually involve standalone shipments, so there's no risk of your RV rubbing against other vehicles. This also increases the price.
Season
The time of the year also plays a major role in determining the price of your transport. Snow, wind, and heavy rain can make some routes unsafe or inaccessible. As a result, the driver may need to take a different road, which can bump up the expense.
RV Size
The size of your RV and any connected trailers is another factor that impacts the cost. It directly influences the shipping methods available. For example, an oversized vehicle might need specialized equipment and flatbeds, raising the price of the service.
Pickup and Destination
Where your shipping company picks up and drops off your RV is a critical consideration. If the locations are in a distant area from the provider's headquarters, they need to travel further to complete the service. Consequently, they charge a higher rate due to the extra work.
In contrast, densely populated urban areas are much more accessible for RV shipments. They allow professionals to use major roads and drive more comfortably.
How Do You Prepare an RV for Transport?
After hiring an RV carrier and determining the best service for your vehicle, you need to prepare your RV for the journey. The first step is to verify your vehicle is sound mechanically. Carry out the following checks to do so:
Inspect fluid levels, including brake oil, coolant, transmission fluid, power steering liquid, and engine oil.
Make sure there are no fluid leaks.
Leave the gas tank about a quarter full if the vehicle will be towed or hauled.
Verify your tow band hitch bar is installed correctly if you've chosen a tow-away service.
Check the voltage range of your battery.
Then, prepare the internal and external parts of your RV for the service:
Lock any slide-outs.
Check for external cracks in chains, doors, windows, and pop-ups.
Be sure all lights are fully functional (e.g., turn signals, parking brakes, parking lights, and indicator lights).
Close windows, doors, and cabinets from the inside with a latch. Tape them if they won't shut.
Remove any loose possessions from your cargo compartment.
Disconnect electricity, gas, and other power supplies.
Take down any hanging items from the walls.
Finally, you want to take appropriate safety measures to help protect your RV during transport:
Inspect the vehicle and fix any damage.
Check the tires for correct tire pressure.
Schedule a professional inspection of emergency brakes and airbags.
Continue Your RV Lifestyle Effortlessly
Continue Your RV Lifestyle Effortlessly
And there you have it! You're now an unofficial graduate of RV Transport U, ready to hit the road—or have someone else hit it for you. Gone are the days of fretting about dings, delays, and transport disasters. With this guide, you've got the route mapped out and the rest stops planned. All that's left is for you and your RV to make it to your next adventure, whether it's exploring Yosemite or just taking up prime real estate in your aunt's driveway!