Introduction
Imagine turning any campsite into your very own open-air gourmet kitchen! If that idea sounds heavenly, you're going to be all ears for this review. Today, we're comparing two titans of the portable camp kitchen world: Sylvan's Dine O Max and Dine O Mite camp kitchens. Whether you're a campfire chef or a first-timer looking to elevate your outdoor cooking game, stick around. We're diving into features, functionality, and everything else you need to know!
Sylvan Dine-O-Max Camp Kitchen: The Full Monty of Outdoor Kitchens
Overview
Who said gourmet kitchens only belong in homes? The Dine-O-Max camp kitchen is what you'd get if Gordon Ramsay designed a camp kitchen. With massive double bamboo work surfaces, you'll feel like you're on the set of a cooking show—except, you know, with more trees and less drama. These are listed at $399 on the SylvanSport website.
Dine-O-Max Camp Outdoor Kitchen Noteworthy Features
Two Solid Bamboo Countertops: A whopping 8.8 square feet of prep space.

(38″ x 18″ & 32-1/4″ x 18″)

Four Water-Resistant Cubbies: Keep your secret spices and sauces safe and sound.
Collapsible Sink: Because doing dishes shouldn't ruin your camping vibe.
Steel Windscreen: No more wrestling with the wind to keep your stove lit.
Integrated Bottle Opener: Because, let's be honest, camping isn't complete without a cold one.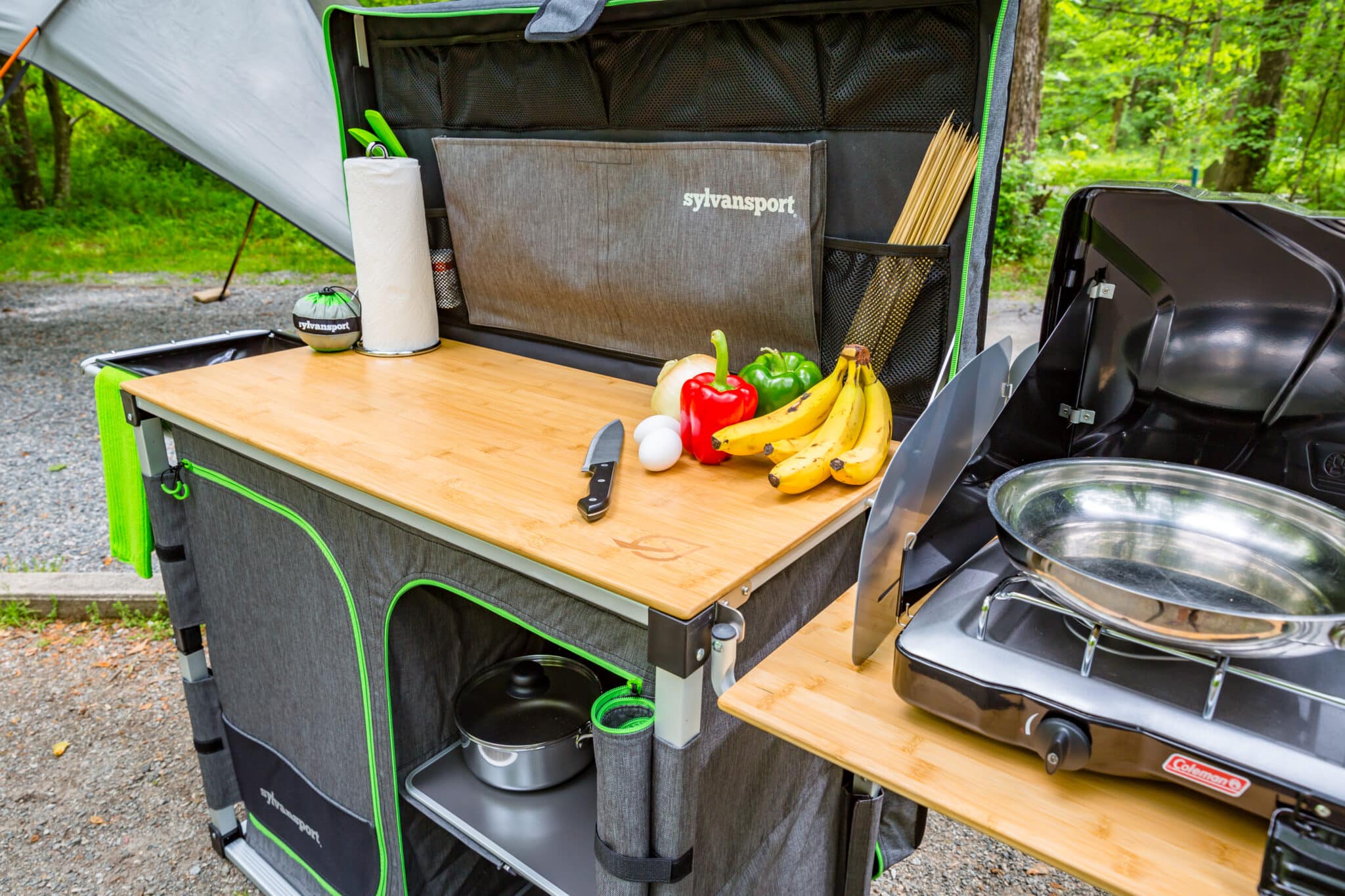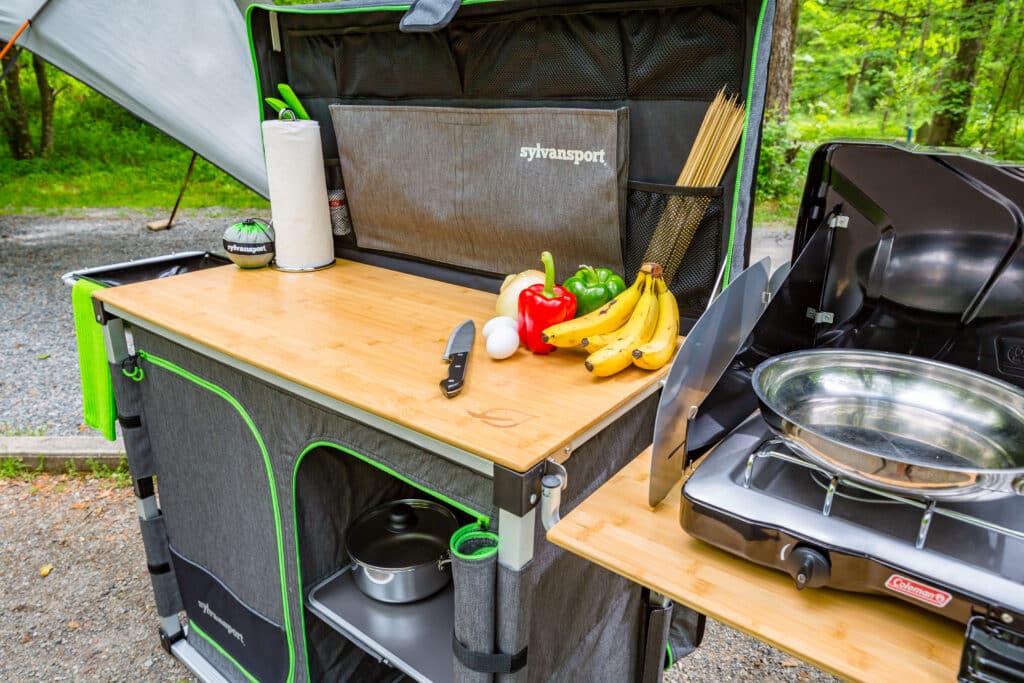 Pros:
Quick Setup: Mostly assembled out of the box, the Dine O Max allows you to hit the ground running—or cooking, in this case.
Ample Workspace: Two solid bamboo countertops provide 8.8 square feet of counter space, enabling multiple cooks to prep food at the same time.
Organized Storage: Four water-resistant storage cubbies with zippered doors and rigid shelves keep all your cooking supplies in arm's reach.
Durability: A robust aluminum frame ensures that the kitchen remains stable even when loaded with cooking essentials.
Extra Features: From an integrated bottle opener to a collapsible sink and windscreen, this kitchen comes with all the bells and whistles to make your outdoor cooking experience seamless.
Versatility: The elegant and compact design of the Dine O Max is so good that you might just want to use it as a beverage bar or dessert table when you're not out in the woods.
Cons:
Weight: At 44 lbs, this camp kitchen is not the lightest of the lot. It might pose a challenge for those who prioritize portability.
Initial Setup: Some users might find that the shelves need slight adjustments during the first use to avoid interference with folding legs.
Potential Wear and Tear: The weight of the kitchen could exert strain on the fabric material over extended use, although this is purely speculative at the moment.
The Verdict
The SylvanSport Dine O Max Camp Kitchen is not just a piece of camping gear; it's an investment in memorable outdoor feasts. Offering functionality, convenience, and stability in spades, this kitchen is perfect for those who take their campfire meals seriously. While the weight might be a turn-off for some, the trade-off comes in the form of ample workspace, organized storage, and durable construction. In other words, it's the culinary companion you didn't know you needed. Whether you're orchestrating a multi-course meal or whipping up some good old marshmallows over the fire, the Dine O Max has got your back. It's a game-changer that takes the 'rough' out of 'roughing it.'
Dine-O-Mite Camp Outdoor Kitchen: The Sleek, Compact Edition
Overview
The Dine O Mite is the Dine O Max's minimalist sibling—ideal for when you want to keep things light but still functional. It's compact yet packs a punch in terms of features. It's dimensions are 20.5″D x 39.25″W x 32.5″H. This kitchen is available at the SylvanSport website or on Amazon for $219.
Dine-O-Mite Camp Kitchen Noteworthy Features
Solid Bamboo Countertop: Over 5 square feet of counter is plenty for most culinary escapades.
Removable Windscreen: Protect your precious flames without the bulk.
Storage Pockets: Six pockets offer handy nooks for your spices, utensils, and more.
Robust Frame: Don't be fooled by its sleek look; this kitchen is robust!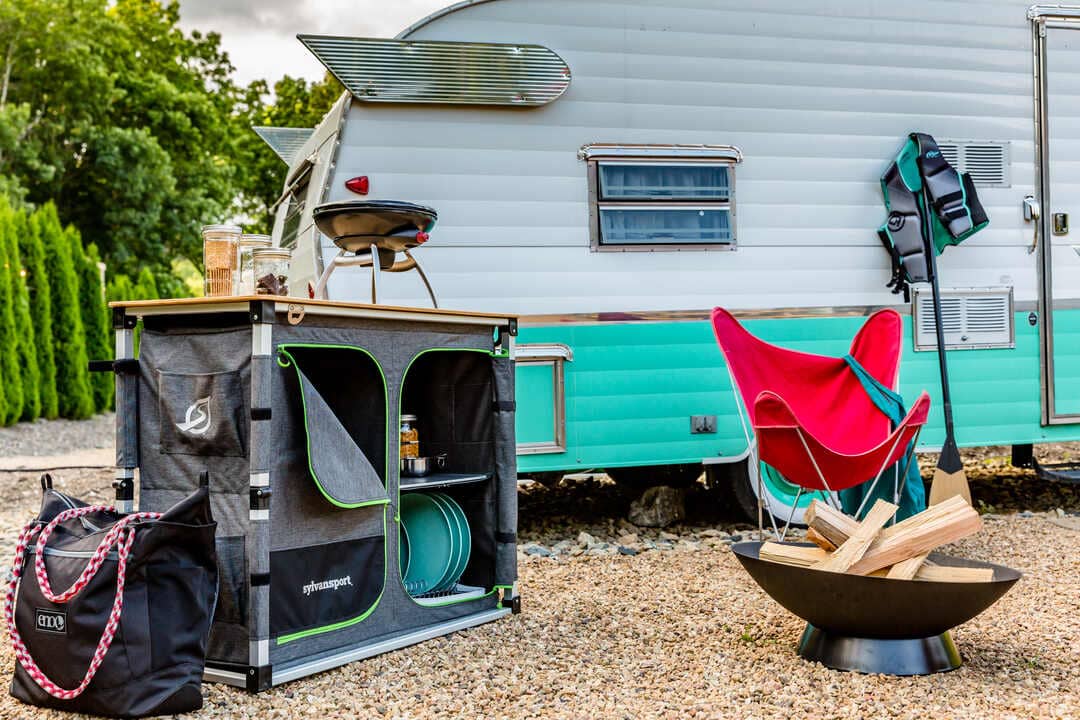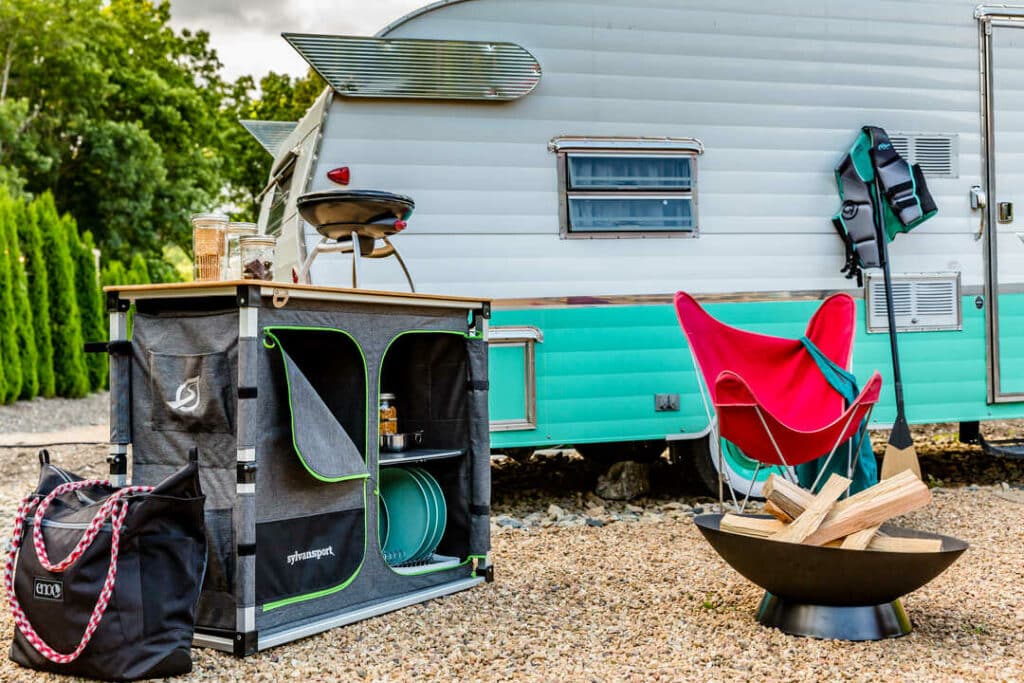 Pros
Easy Setup: One of the standout features is the ease with which you can set up this kitchen system. It's designed to be a one-person job, which is a significant advantage when you're eager to start your outdoor adventure.
Quality Material: The bamboo countertop is not only visually appealing but also sturdy and durable. It makes for an excellent surface for all your cutting and food preparation needs.
Stable Construction: A robust aluminum frame and four interlocking hinges ensure that this kitchen system remains stable throughout your use—a crucial feature when handling sharp knives or hot pots.
Windscreen: A built-in windscreen makes this kitchen system ideal for outdoor cooking by protecting your stove flame and ensuring that your ingredients stay put.
Adjustable Levelers: This system comes with levelers at the bottom to ensure that your tabletop is perfectly level, even on uneven terrain.
Generous Storage Space: The zippered cabinets and hard shelf inserts provide ample room to store your essentials. Extra pockets and hooks on the side add even more storage options.
Multi-Functional: Beyond being a kitchen table, this system comes with added conveniences like a bottle opener and towel rack.
Portability: Despite its size and feature set, the Dine O Mite packs down into an easy-to-carry case for maximum portability.
High Storage Capacity: With 6.5 cubic feet of total storage and 5.25 square feet of cooking space, you'll have plenty of room to work and store your cooking gear.
Water Resistance: Built for the outdoors, this kitchen system is water-resistant, making it durable and suitable for all kinds of weather.
Built-in Extras: Additional features include pockets for smaller items like utensils and condiments, as well as a handy towel rack.
Cons
Weight: Clocking in at 34 lbs, this kitchen system may be considered heavy, particularly if you need to move it frequently or carry it over long distances.
Size: While spacious and roomy, its dimensions might make it unsuitable for smaller campsites or for those who prefer a more minimalist camping setup.
Cost: At $219, this is not the most budget-friendly option available, so it may not be suitable for everyone's wallet.
Feature Overload: If you're the type who enjoys simple, back-to-basics camping, the feature-rich nature of this system might feel like overkill for your needs.
Limited Back Ventilation: The back of the unit is mesh and open, which may not be ideal for storing certain items that require more protection.
No Built-in Sink: While the system is otherwise comprehensive, the absence of a built-in sink might be a downside for some users who value that feature for cleaning and food prep.
The Verdict
The SylvanSport Dine O Mite Kitchen System is more than just a camp kitchen—it's your ticket to hassle-free gourmet meals in the great outdoors. With its ease of setup and durable construction, it's designed for campers who want to focus more on the adventure and less on the logistics. Although its 34lb weight might give some pause, the trade-off is a well-organized and ample workspace that's tough enough to withstand the elements. Whether you're preparing a complex meal or just want to quickly boil water for coffee, the Dine O Mite proves to be an indispensable asset. It successfully takes the inconvenience out of cooking in the wild, elevating your camping experience to a whole new level.
Conclusion: Choose Your Culinary Adventure
So, which kitchen will you take on your next camping trip? The Dine O Max is the full-on culinary studio for ambitious camp chefs, while the Dine O Mite is the no-frills, lightweight option for simpler feasts. Either way, both options are a far cry from balancing a hot skillet on a rock. No matter what, you'll be cooking up a storm—minus the hassle.
Bon appétit, happy campers! 🍲🏕️