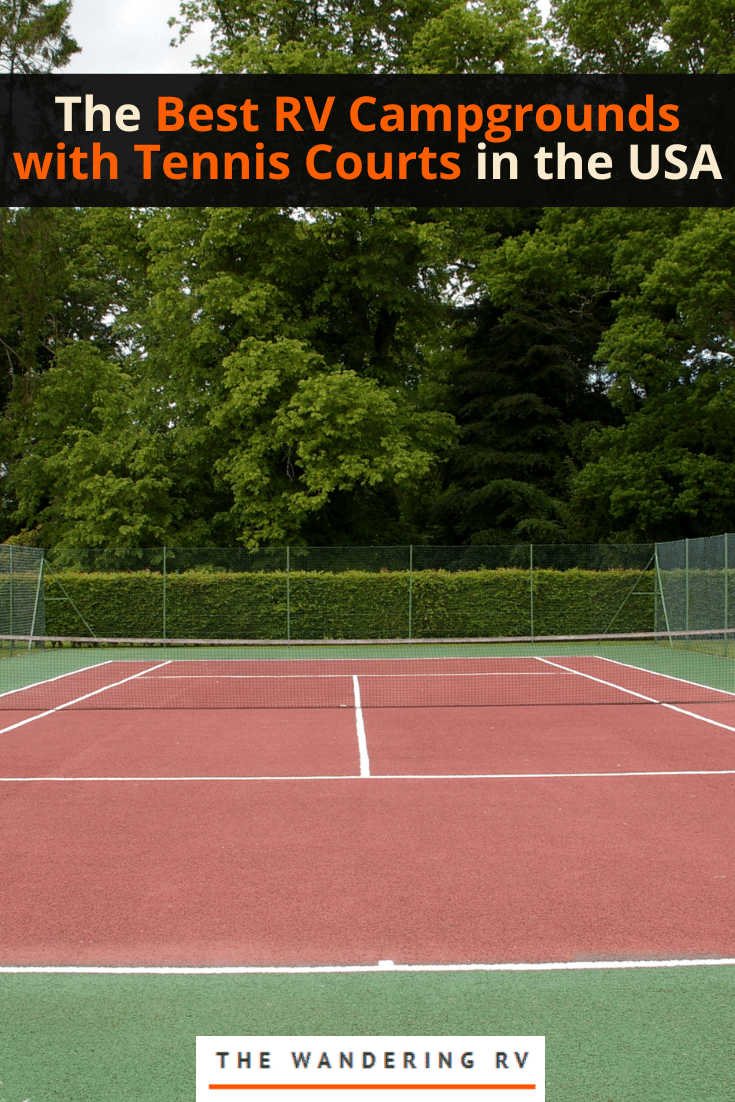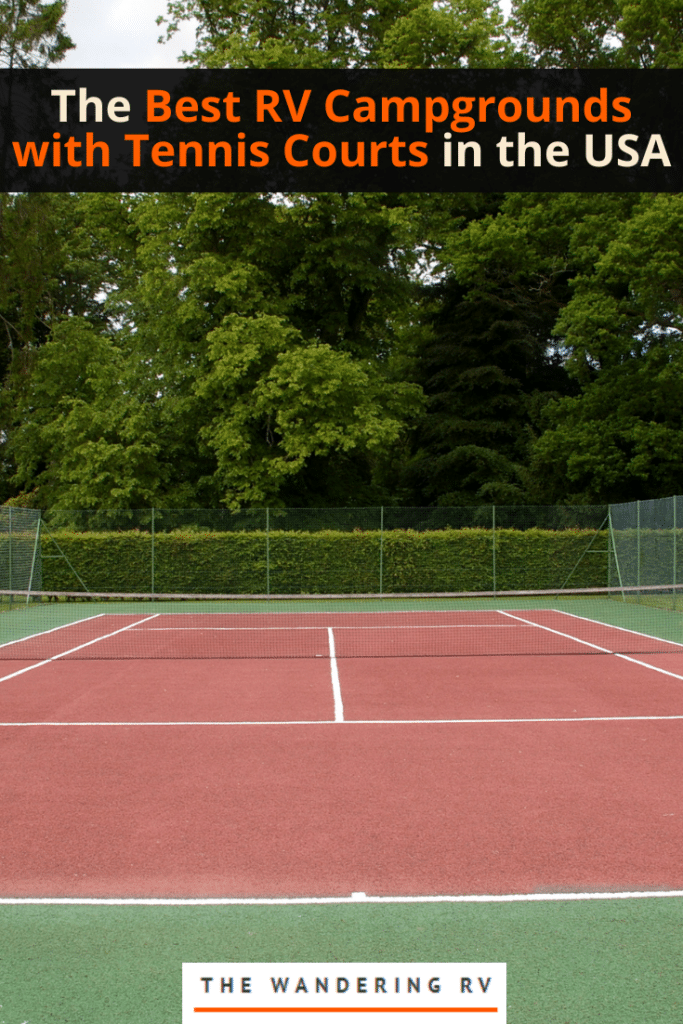 Looking for a place to play tennis while you're on vacation? Look no further!
We've put together a list of the eight best RV parks with tennis courts in the country.
These campgrounds offer great amenities, beautiful scenery, and plenty of opportunities for outdoor recreation.
So pack your racquet and get ready to hit the court!
Table of Contents
1 – Stone Mountain Park, GA
Located in the heart of Georgia, Stone Mountain Park offers RV camping with all the trimmings. You can play on their two-lighted tennis courts and enjoy a host of other activities such as mini-golf, paddleboats, swimming pools, and more. And don't forget about their popular laser show at night!
Take a break from all the outdoor fun to visit some historic sites like The Antebellum Plantation & Farmyard or The Historic Square. Plus, you can even take part in ranger-led hikes and programs for a truly immersive experience. With pull-through sites available for RVs up to 40 feet in length, this park is ready to accommodate your family vacation needs.
Nearest Airport: Hartsfield-Jackson Atlanta International Airport
Nearby Attractions: Six Flags Over Georgia, The Georgia Aquarium, Centennial Olympic Park
Unique Amenity: Cable TV hookups at all sites
2 – Turkey Run State Park, IN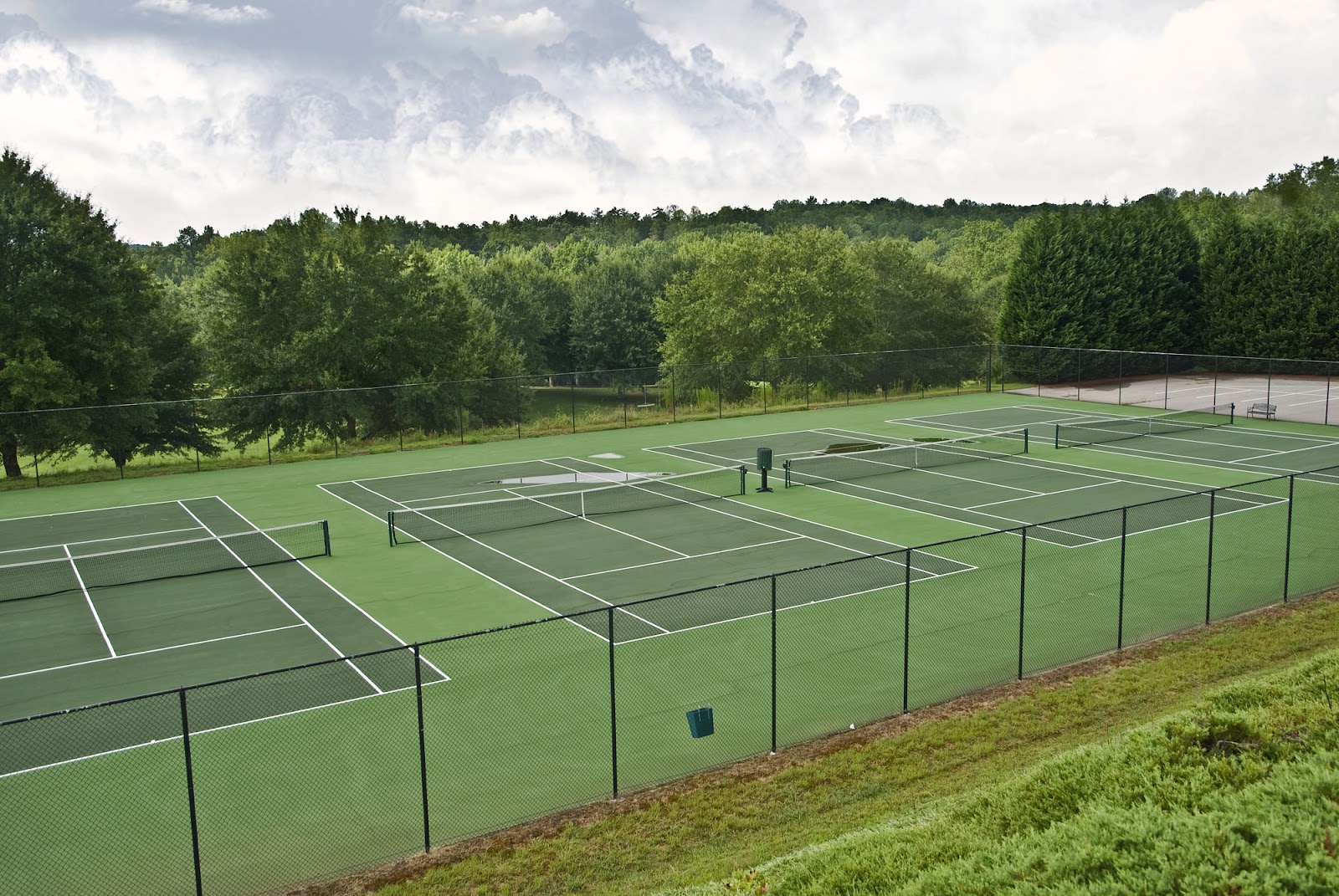 Building a tennis court is expensive, but if you have an RV and live in Indianapolis, why not just camp at Turkey Run State Park? As one of the best campgrounds with tennis courts in Indiana, Turkey Run State Park is also a top location for hiking, horseback riding, and canoeing on Sugar Creek. Tennis players have access to four lighted hard courts that are open from 8 am – 11 pm, and there's even an equipment rental stand on site if you need it.
This park offers a variety of campsites for tents, trailers, or RVs (with full hookups and 50 amp electrical service), as well as cabins for rent. And when you're not enjoying outdoor recreation, check out some of the nearby attractions like covered bridges, wineries, and cavern tours.
Nearest Airport: Indianapolis International Airport
Nearby Attractions: Turkey Run Inn Restaurant, Turkey Run Golf Course, Sugar Creek Covered Bridge
Unique Amenity: Basketball courts and horseshoe pits are also available on site.
3 – Wyalusing State Park, WI
Nestled in the northwest corner of Wisconsin, this state park offers a peaceful retreat from the hustle and bustle of daily life. Enjoy some friendly competition on one of their four tennis courts before spending an afternoon canoeing or fishing in Wyalusing's lakefront location.
Campers can enjoy traditional amenities such as showers, flush toilets, and firewood for sale alongside more unique options like a nature center and archery range. The park also has various programs to participate in during your stay, including bird-watching walks and astronomy nights.
Nearest Airport: La Crosse Municipal Airport
Nearby Attractions: Effigy Mounds National Monument, Pikes Peak State Park, Hixon House Historic Site
Unique Amenity: Nature Center
4 – East Canyon Resort, UT
Escape to the gorgeous mountain scenery of Utah's East Canyon Resort. Located in a state park, you'll have easy access to hiking, fishing, and boating activities. The resort offers plenty of amenities for RVers, including a pool, a mini golf course, and a basketball court. And, of course, there are two well-maintained tennis courts for players of all levels to enjoy.
After an exciting day on the courts, you'll love unwinding with an evening dip in the hot tub or roasting s'mores around the campfire. And don't forget to take advantage of nearby attractions, including hiking trails and fishing spots!
Nearest Airport: Salt Lake City International Airport
Nearby Attractions: Antelope Island State Park, Farmington Bay Waterfowl Management Area, Donut Falls
Unique Amenity: Horseshoe pits
5 – Kahneetah Resort, Oroville, WA
Head up north for a beautiful Pacific Northwest vacation at Kahneetah Resort. Located just 45 minutes from the Mt. Baker ski area, this RV park is perfect for winter sports enthusiasts and tennis players alike. The resort boasts six outdoor tennis courts, as well as other outdoor activities like basketball and horseshoes. Throughout the summer, Kahneetah offers live entertainment, with kids' activities during the day and live music in the evenings.
After a day of playing on the courts or exploring nearby trails, relax by one of the two heated pools before enjoying a meal at their on-site restaurant.
Nearest Airport: Bellingham International Airport
Nearby Attractions: North Cascades National Park, Mt. Baker Ski Area, Lake Osoyoos
Unique Amenity: On-site restaurant and convenience store
6 – Desoto State Park, AL
The perfect destination for outdoor recreation, DeSoto State Park is one of Alabama's largest and most popular parks. Enjoy the scenic views while hiking or biking along the trails before heading over to the tennis courts for a match. Boating, fishing, and swimming are also available in Little River, which runs through the park.
Campers have plenty of options for accommodations, with RV sites, tent camping areas, and even cabins available for rent. And don't forget to visit nearby Desoto Falls during your stay!
Nearest Airport: Huntsville International Airport
Nearby Attractions: Desoto Falls, Mentone Cabins & Campground, Cloudmont Ski & Golf Resort
Unique Amenity: Waterfalls
7 – Kymers Camping Resort, NJ
For campgrounds with tennis courts on the East Coast, it's hard to beat Kymers Camping Resort. Located in beautiful Cape May, NJ, this campground offers a variety of outdoor recreation options for all ages, including water parks, mini golf, and (of course) a tennis court. Bring your tent or RV and make yourself at home in one of their many campsites or rent one of their fully furnished cabins for a luxurious camping experience.
Located in the heart of the Jersey Shore region and just a few miles from the beach, Kymers Camping Resort offers ocean views and easy access to popular attractions like Atlantic City.
Nearest Airport: Atlantic City International Airport
Nearby Attractions: Gillian's Wonderland Pier, Ocean City Boardwalk, Atlantic City Beach
Unique Amenity: Outdoor Movie Theater
8 – Bethpage Camp Resort, VA
If you're a fan of the outdoors and history, this is the campground for you. Located just a short drive from Virginia Beach, you'll have easy access to the water and plenty of other outdoor activities. Also close to Colonial Williamsburg, Jamestown Settlement, and Busch Gardens, there's plenty for history buffs to explore within minutes of setting up your RV.
The tennis courts are just one aspect of the numerous recreational options available at Bethpage Camp Resort. Pickleball lovers rejoice – Bethpage Camp-Resort has several courts for your enjoyment. The campground itself boasts swimming pools, mini golf, and a children's playground for those days when you want some family fun without leaving the grounds.
Nearest Airport: Norfolk International Airport
Nearby Attractions: Virginia Beach Boardwalk, First Landing State Park, Cape Henry Lighthouse
Unique Amenity: Bike Rentals
History of Tennis
The origins of tennis can be traced back to 12th century France, where a game known as jeu de paume, or "game of the palm," was played. This involved hitting a ball with one's hand. Eventually, racquets were introduced, and the game evolved into what we now know as tennis.
The modern version of the sport began to take shape in the late 19th century, with major developments such as lawn tennis and the establishment of official rules and governing bodies. The first Wimbledon Championship was held in 1877, and the U.S. National Championship (now known as the US Open) followed suit in 1881.
Tennis gained even more popularity in the 1970s thanks to the rivalry between players such as Bjorn Borg and John McEnroe and the emergence of superstars like Chris Evert and Billie Jean King. Today, tennis is a global sport, with major tournaments taking place all over the world. It continues to evolve and attract fans from all walks of life.
How to Play Tennis
Tennis is a sport played with rackets and a hollow rubber ball. The object of the game is to hit the ball over the net into your opponent's court while also preventing them from doing the same to you.
Players stand on opposite sides of a rectangular court, divided by a net in the middle. Each player or team starts with their own half of the court and takes turns hitting the ball over the net. Points are scored when one player or team cannot return the ball before it bounces twice in their half of the court or hits outside boundaries.
The game is typically played as singles (one player per side) or doubles (two players per side). Players can serve, volley and groundstroke to return the ball, using various tactics to outmaneuver their opponent and win the point. The first player or team to reach four points (with a two-point margin) wins the game. A match is typically played as a best-of-three or best-of-five set format, where each set is won by the first player or team to reach six games with a two-game margin.
Whether you're a beginner or a seasoned player, tennis is a sport that can be enjoyed by all. So grab your racket and hit the court!
Read Next: A List of The Best Luxury RV Resorts & Campgrounds
FAQs
The FAQs below include common questions about RV parks with tennis courts. You may find these questions and their answers helpful as you prepare for your upcoming RV or camping trip.
Q: How big are the tennis courts at these RV parks?
In these RV parks, the tennis court dimensions measure 78 feet by 36 feet. It's perfect for a game of doubles or singles, and there's plenty of room to run around. If you're looking for a place to play some tennis while on vacation, this RV park is definitely worth checking out.
Q: Are there lights on the tennis court for nighttime play?
There are no specific lights on an RV park tennis court meant for nighttime play. However, the usual playing surface lighting (depending on the venue) should be bright enough to allow players to see the ball and play properly.
Some venues may have floodlights or another supplemental lighting in place in case of poor natural lighting conditions, but this is not standard practice. In general, playing at night is more difficult because there is less natural light available, and shadows can be harder to see through.
Q: Is there a pro shop at the RV park for buying equipment or renting rackets?
Unfortunately, there is no pro shop at this RV park for buying or renting tennis equipment. However, most of the RV park does offer bike rentals, so it's worth checking to see if they also rent out tennis rackets and other gear as well. Alternatively, you can always bring your own equipment or purchase some at a nearby sporting goods store.
Q: Are there any tournaments held at the RV park?
There are currently no tournaments being held at these RV parks. However, the spacious and well-maintained court provides plenty of room for friendly games and practice sessions. The RV park also offers several other amenities, such as a pool and hiking trails, making it a great destination for all kinds of travelers looking to enjoy the great outdoors.
Other RV-Related Content: