Widmer Enterprises, Inc. writes about products, strategies, and tips to help you make smart decisions with your money. We may receive a small commission from our partners, but our reporting and recommendations are always independent and objective.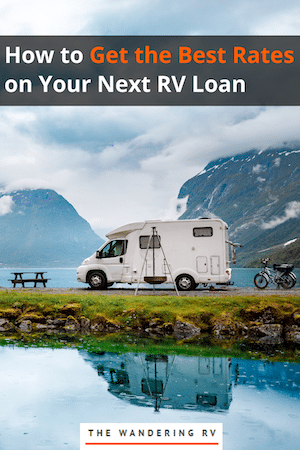 An RV is a fun and practical way to mosey along the interstates and blue highways of this nation.
RVs are also affordable, as RV financing solutions make purchasing these vehicles possible even if you're on a budget.
From the application process to securing the best rates, here's all you need to know about RV loans!
Let's dive in.
Table of Contents
Note: Some of the links in this article are affiliate links. This doesn't cost you any more than normal. Read our disclaimer for more info.
What is an RV Loan?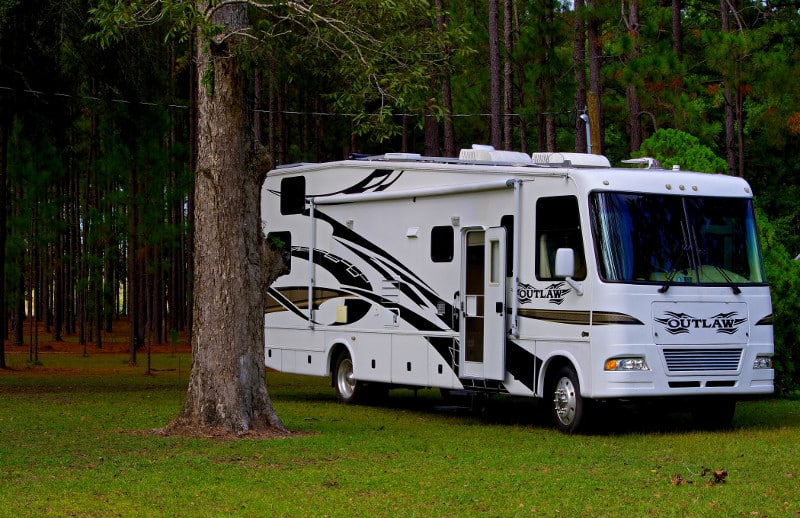 Quite simply, RV loans are long-term financing solutions that travelers use to purchase recreational vehicles, travel trailers, and campers. For many RV owners, a loan is the only realistic way to purchase one of these liberating and empowering vehicles or trailers, given the high price point.
Luckily, most RV buyers have access to multiple loan options, which makes it easy to find one that suits your needs.
Most RV loans are underwritten as personal loans that are secured against the vehicle. There are unsecured loans, too, but these are more expensive. This makes them similar in some ways to traditional auto loans, although RV loan amounts are usually higher and the loan terms often longer.
RV loans can range from $10,000 for a small, basic RV to $500,000 or more for your very own palace on wheels, and they can have loan terms of up to 20 years in some cases.
The specific terms of your RV loan will depend on the recreational vehicle or trailer you purchase and your financial situation. More on that to come!
How To Finance an RV (in 6 Steps)
The best way to secure a favorable loan rate is to be prepared and compare your options. This is a fairly straightforward process that can be completed in six steps.
You can also click here to apply now.
Step 1: Set Your Budget
Begin by reviewing your financial situation and determining how much you want to spend on an RV or travel trailer. Recreational vehicles cost between $10,000 and $300,000, so you'll want to do some research to figure out what you can afford.
As you review your budget, you should consider:
How much you want to pay in total for the RV
How much you're able to put down on an RV
How much you want your monthly payment to be
Depending on your situation, any one of these three factors could be the determining factor for your RV loan's terms.
For example, you may only consider a loan amount up to $75,000 if you've already decided that this is the most you want to spend on an RV. Alternatively, you may only be able to get a loan amount of $60,000 if you only have $6,000 saved up for a down payment (see Step 2). 
If you want the lowest possible monthly payments, you'll need to extend the loan's term to 20 years, so that you have as long as possible to pay the loan off.
In addition to these direct costs, also remember to consider the expenses associated with owning and using an RV. You'll need to pay for gas, utilities, camping spots, maintenance, and insurance, along with any accessories you need.
Bear in mind that some of these costs can be adjusted depending on how much you use the RV, but others are fixed regardless of how much you drive.
There are RVs for every budget, from basic travel trailers to fully loaded, luxurious, A-grade motorhomes. Once you know what your budget is, you can begin looking at RVs that are in your price range.
If you've realized you can't afford the monthly payments on an RV yet or don't want to risk spending that much on one and not liking it, consider getting an RV rental first.
Step 2: Decide on Your Down Payment
As you finish the budgeting aspect, double-check your proposed down payment and start saving if necessary.
At a minimum, expect to need a 10 percent down payment to secure an RV loan.
Some U.S. banks and federal credit unions will require a downpayment of 20 percent, and an even larger down payment might help lower the loan's annual percentage rate. (Annual percentage rate, or APR, is the annual interest rate of a loan.)
If you don't already have an adequate down payment, you might be able to save a larger payment relatively quickly. Since you can potentially borrow 10 times what you put down, even a moderate increase in down payment can net you access to a substantially larger loan. Should you save even another $2,000, you could possibly borrow an additional $20,000. A little can mean a lot.
Reducing monthly expenses and picking up a side-hustle are both good ways to save up more for a down payment. Just be sure not to include your side-hustle income in your monthly payment calculations if you plan to stop the hustle once you have a sufficient down payment. That would be a painful rookie mistake.
Because of the minimum down payment requirements, how much you can pay upfront will determine the maximum price of an RV that you can afford.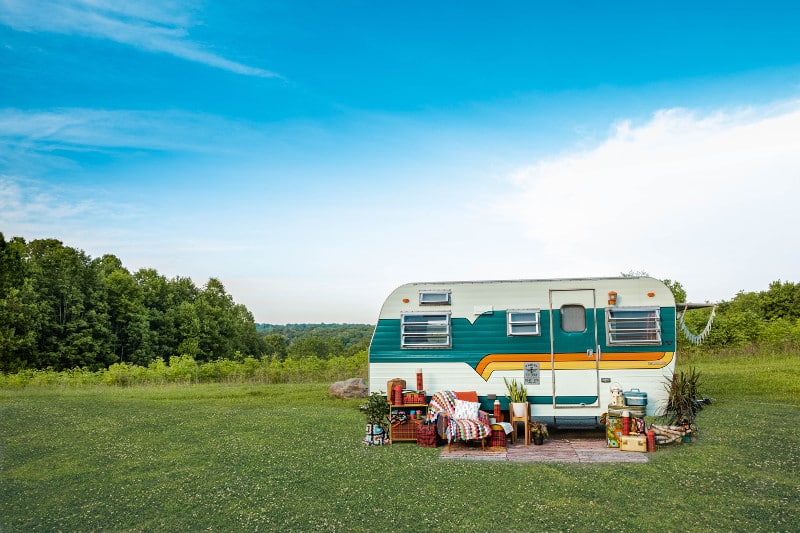 Step 3: Review Your Credit Score
You'll need a decent credit score before you can be approved for an RV loan, and a higher score could help you get a lower RV loan rate. To make sure your score is as good as possible, check it before you submit any loan application.
You can check your credit score for free through AnnualCreditReport.com. The service will provide one annual credit report from each major agency (Equifax, TransUnion, and Experian) for free per year.
If there are any errors in the report that could lower your score, make sure the misinformation is corrected before applying for a loan. Should you need to raise your score, making payments on time and reducing your outstanding debt will help raise the number.
In many cases, it's possible to raise your credit score significantly in just a few months. Get polishing that score!
Don't have a great score? It's possible to get bad credit RV loans. Just keep in mind that you'll often need a higher down payment and will pay more in interest than if you raise your score first.
Step 4: Decide Which Type of Loan You Want
Now turn your attention to the loans that are available and decide which type of loan you'd like. As mentioned, RV loans are underwritten as a personal loan, and they come as either secured or unsecured loans.
Secured RV loans usually have lower interest rates and reduced qualification requirements, but they're secured against your RV. Should you default on your loan, the RV or travel trailer may be repossessed. These loans might be a good option if you don't have perfect credit, want the lowest possible annual percentage rate, and are sure you can afford the monthly payments.
Unsecured RV loans tend to have slightly higher interest rates if your credit isn't gleaming. and their qualification requirements are usually higher. These loans aren't secured against your RV, though, so the vehicle won't be repossessed if you default. Unsecured loans are also faster to underwrite since they aren't written against the vehicle. An unsecured loan may be a good option if you have excellent credit or don't want to risk repossession in the event of a default.
Related Post — How Does RV Financing Work?
Step 5: Compare RV Financing Lenders
You're ready to begin looking at recreational vehicle loans. Compare the different RV financing options that lenders offer, and be sure to look at both offers from U.S. bank institutions and federal credit unions. Many financial institutions include RV loans among their products and services.
Our personal favorite lender is LightStream.
Comparing RV loan quotes is the best way to know what RV loan rates are available to you, as different lenders will offer different annual percentage rates based on your loan amount, down payment, credit score, and other factors. Additionally, you can compare financing quotes from the same company to see how changing the down payment amount or term length could impact what they're willing to offer you.
When comparing loan options, pay special attention to the loan's annual percentage rate. Even if you find a loan rate that's just slightly lower than others, the cumulative savings over the loan's term could total thousands of dollars!
Step 6: Negotiate Your Rate
When you know your options, you're able to negotiate your purchase and rate. Don't be afraid to haggle with an RV dealership, as they frequently expect to negotiate RV sales. The purchase price, features, and terms of a loan are all fair game during negotiation. Don't be scared to ask for the moon!
Many RV dealers will negotiate and sweeten the purchase agreement if they know you have access to financing elsewhere. Try to get them to meet or beat your best RV loan offer, and don't be afraid to get your loan from somewhere else if it offers better value. You can use an RV loan from a different lender to purchase an RV at your chosen dealership or use the dealership's finance facilities. Don't be shy – haggle for all your worth!
How To Qualify for RV Financing
Qualifying for RV financing requires saving up a sufficient down payment (10 percent or more) and having a decent credit score.
You'll also want to know what sort of recreational vehicle you hope to purchase, as this will determine the loan amount, and the lender will need some specific details about the vehicle. Finally, make sure you adjust the loan term appropriately.
Once these issues are sorted, you can compare loan offerings and apply for one that suits you.
RV Insurance
Before you can buy a recreational vehicle, you need proof of RV insurance in order for most lenders to give you a loan. Make sure you talk to your insurance company and get enough coverage to meet the lender's requirements. Keep in mind that the insurance will add to your monthly costs, so budget for that as well.
If you need help finding the best RV insurance options, click here.
In addition to traditional camper insurance, you should also consider getting an RV extended warranty. While most RVs come with a warranty, they are usually limited and only last two years. An extended warranty can last up to five years or more and cover everything from front to back!
Frequently Asked Questions
Can You Claim an RV as a Primary Residence?

Claiming your RV as a primary residence is not only legal but also has some advantageous benefits.

For example, your RV loan interest may be tax-deductible since it's effectively a mortgage on your primary residence.
Can Someone Co-Sign an RV Loan?

If you have poor credit, asking someone to c-sign on your RV loan is a viable way to qualify for a loan and/or obtain a better RV loan interest rate.

Many lenders allow loan applicants to have a co-signer, although a few lenders will not.
What Are Typical RV Loan Terms?

The loan term for RV loans are generally structured in a similar way to those found in auto loans, although the specific numbers can differ.

The loan amounts may range from $5,000 or less to $500,000 or more. For most standard RV loans, the duration is 10, 15, or 20 years.

Related Post: What are Typical RV Loan Terms?
What is a Good Interest Rate for an RV Loan?

The interest rates of RV loans tend to be a little higher than auto loan rates, but it's still possible to get a good interest rate on an RV loan.

Interest rates depend on multiple factors, including the current market rates, your credit score, the loan borrowed, the amount put down, and other items.

The best RV loan rates are typically between 3.99 and 7.99 percent, with up to 10 percent still being fairly common.

You can use our RV loan calculator to figure out how much you'll pay in insurance.
How Hard Is It to Get an RV Loan?

While RV loan requirements vary by lender, the available options make loans accessible to many future RV owners. Secured and unsecured loans are widely accessible, as are co-signed and non-cosigned loans.

You'll need a down payment and decent credit, but you don't necessarily need spotless credit to be approved for financing. It also depends on your loan term.
What Is the Minimum Credit Score for an RV Loan?

Many banks and credit unions want to see at least a 660 to 700 credit score. If your credit is lower than this, however, financing is likely still available by exercising some of the above-mentioned options.

A significant number of lenders don't have a strict minimum score.
How Much Is the Average RV Payment?

The average RV payment is usually several hundred dollars per month. How much your payment will be depends on the loan amount, loan term, and interest rate. Borrowing less, increasing the duration of the loan, and qualifying for a lower rate are all ways to reduce your monthly payment.
Read Next — How Old of an RV Can You Finance?