Ever found yourself staring into the distance, imagining a life unchained and on the move? The freedom of the open road is already an exhilarating experience, but what if you could elevate it by truly making it your own? Welcome to the realm of DIY camper van kits—a sanctuary for those who crave both freedom and the satisfaction of building something with their own hands.
In this comprehensive guide, we're going to break down the best DIY camper van kits tailored for various types of vans, from spacious Sprinters to rugged Jeeps. Discover how these kits offer not just a cost-effective alternative but also endless customization possibilities for turning your vehicle into a fully functional, cozy abode on wheels.
So, buckle up, wanderlusters! As we venture into the world of van conversions together, the only limit is your imagination.
Table Of Contents:
Top-Rated Interior Conversion Kits for Your Camper Van
Dreaming of hitting the open road with a customized camper van? It's no secret that converting a regular van into a home on wheels can be quite an undertaking. No need to fear, we've got your back with some great DIY kits to help turn that dream into a reality.
Simplifying Conversions with Adventure Wagon and AVC
Adventure Wagon, known as "the Lego set for adults," offers modular conversion systems compatible with Mercedes Sprinter and Ford Transit vans. The simplicity of their design lets you transform your vehicle without breaking too much sweat or breaking your wallet. They provide RUV kits featuring versatile MOAB bed & MULE storage lockers, which scored 4 out of 5 in user ratings. We love their simplicity and ruggedness. Their interior builder tool is great for visualizing the interior and getting an idea of pricing before giving them a call. Keep in mind, this is only for the framing, skin, flooring, bed, and their awesome gear bags which hang like upper cabinets. I also really like their extensive use of L-track.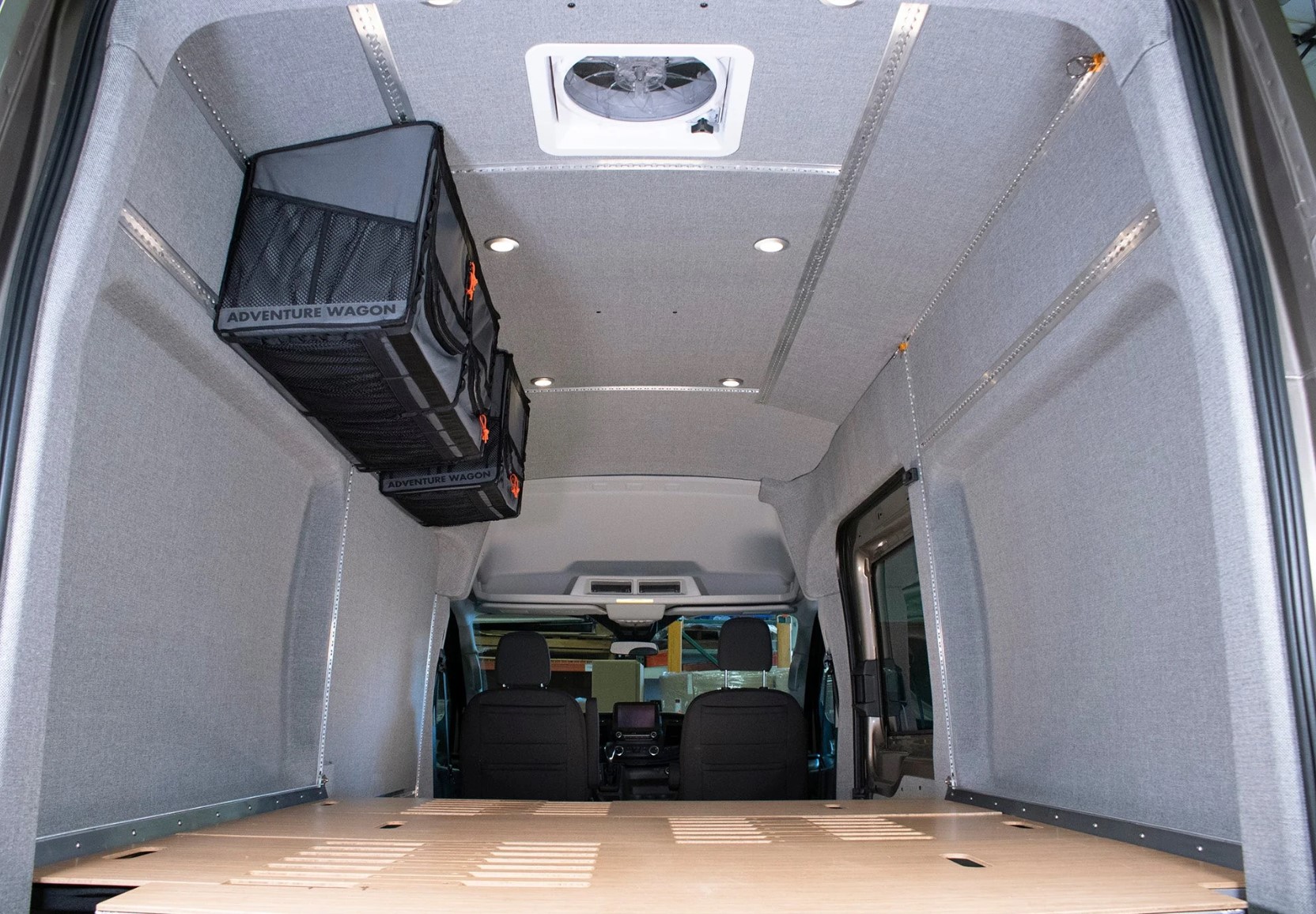 Image Credit: Adventure Wagon
Moving over to Adventure Vehicle Concepts (AVC). This Colorado-based company is all about bringing the comfort of home inside your four-wheeled beast. Their comprehensive interior kit boasts insulated wall panels, integrated wiring solutions, even offering customization options if you need something extra special. And if you want even more DIY, you can buy their paper pattern kits, and create your wall panels from your material of choice.
They also have fantastic options for roof racks and rear exterior storage.
Versatility and Quality with ZENVANZ and Wayfarer Vans
Next up is ZENVANZ, offering bamboo-based interiors adding both style and sustainability quotient into play – who said going green couldn't look good? Suitable for Sprinters and Ford Transit Vans onwards these eco-friendly conversions come pre-assembled & flat-packed ensuring installation is as breezy as those beachside stops on your future travels. Users have given these kits a high-five with an impressive rating of 5 out of 7.
You can start with their wall and floor kits, and move up to their cabinet kit which includes:
Kitchen / Galley
Upper Cabinets
3 Panel Bed System
Fold Out Gear Drying Rack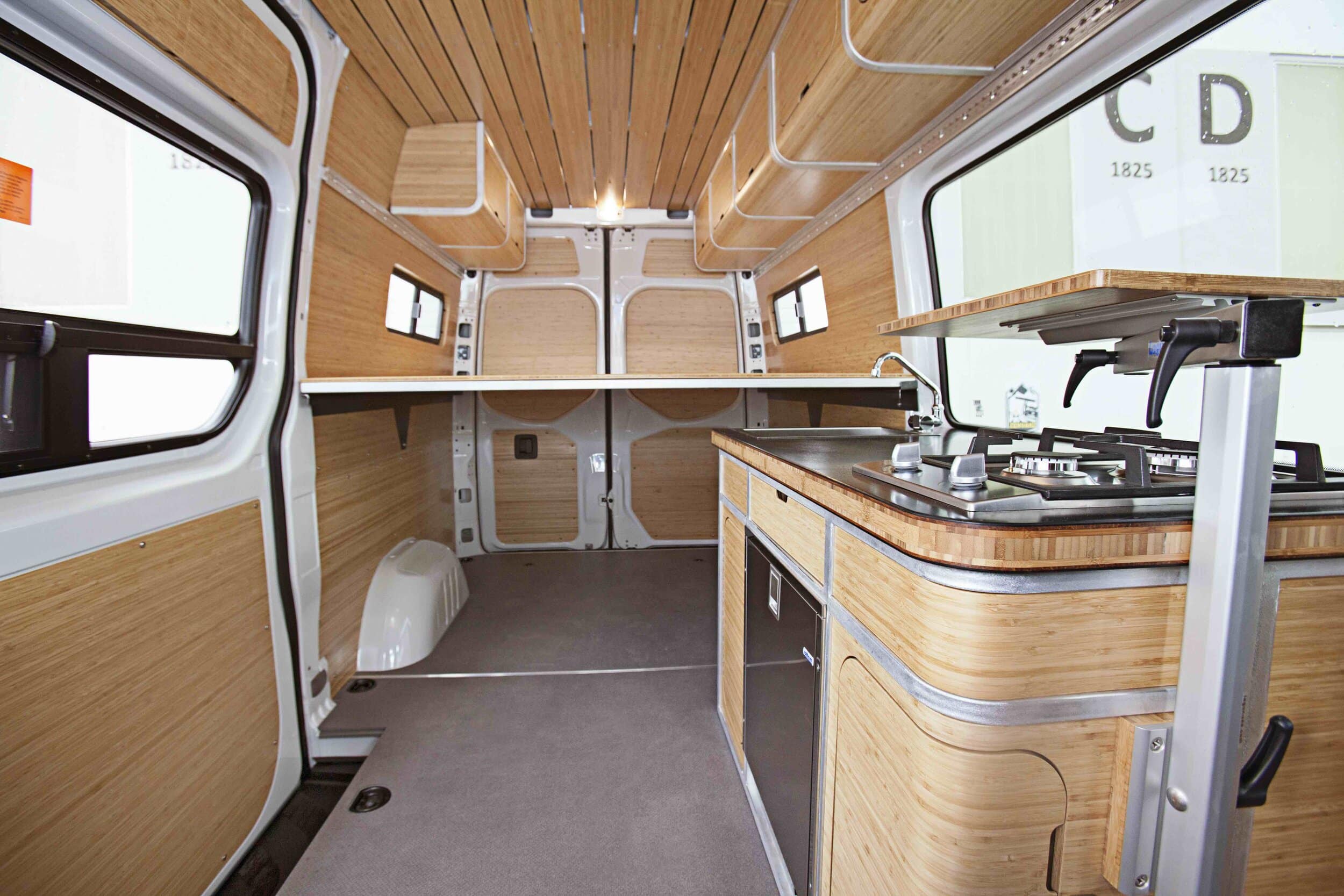 Image Credit: ZENVANZ
Wayfarer Vans keep it simple and affordable with their plug-n-play camper van conversion kits, compatible with the Ford Transit and Ram ProMaster vans. They deliver pre-assembled modules that can be installed in less than a day. So whether you're planning to explore the Rockies or cruise along Route 66, Wayfarer ensures your vehicle is ready for adventure without burning a hole in your pocket.
What's included in their kit?
Foundation

floor, cargo tracks, walls, 100% wool insulation, soft panels, sound-deadening subfloor insulation.

Furniture

kitchen galley with fold down leaf (includes 5-gallon fresh and gray water tanks, sink and hand pump) storage cubby, three high-back boot boxes, Lagun swivel table.

Bed

upgraded 5" thick memory foam mattress (58″ wide x 6'1″ sleeping surface), bed platform has grooves for ventilation, and the platform extends all the way to the back door. Can upgrade to long bed layout as well (54″ wide x 7′ sleeping surface).

Finishing Touches

integrated LED puck lights in the ceiling, insulated partition to separate the cab, magnetic window coverings for your rear factory windows.
Key Takeaway:
Transforming your van into a dreamy mobile home is easy with top-notch DIY kits. Adventure Wagon's modular systems and AVC's comprehensive interior kit bring comfort to the road, while ZENVANZ adds sustainability with their bamboo-based interiors. Wayfarer Vans offer affordable, quick-install modules that have you adventure-ready in no time.
Enhancing Functionality with TrailKitchens and TouRig Accessories
When it comes to the vanlife, customization is king. Your camper van should be a unique reflection of your lifestyle and needs. Two brands that excel in offering accessories to enhance your van's functionality are TrailKitchens and TouRig.
Cooking Made Easy with TrailKitchens Components
A culinary adventure awaits you on the open road. The challenge? Limited space for kitchen components. But fret not, TrailKitchen's innovative designs has you covered.
Their compact storage components offer clever solutions to organize all your cooking essentials efficiently – from pots, pans down to utensils. This way, they ensure everything has its place so there will be no clanging around while driving.
To make meals more delightful (and less of a chore), their offerings also include stoves that neatly tuck away when not in use—perfect for those impromptu roadside cookouts or gourmet campfire dinners under starlit skies. But they don't just stop at amazing kitchens. They also have cabinets, bed systems, and full van build kits!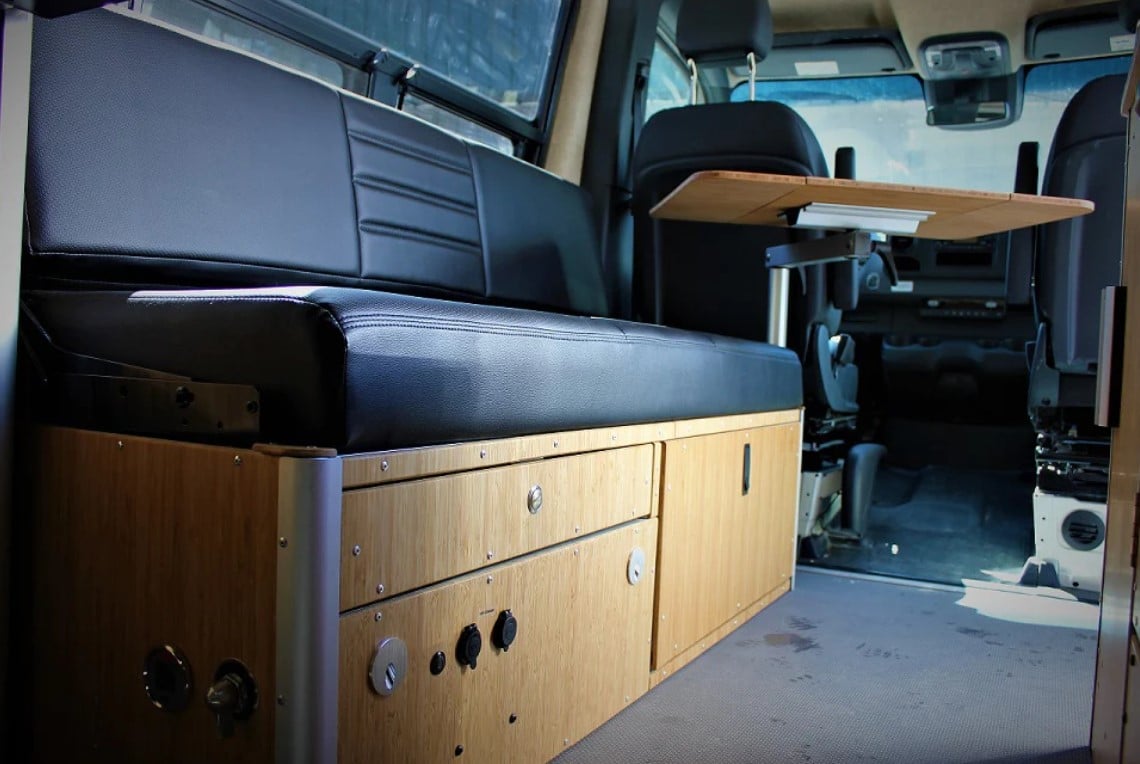 Image Credit: Trail Kitchens
Comfort and Functionality with TouRig Accessories
Moving over to comfort-ville where TouRig rules supreme. Their product range offers several options that add both style and convenience into any DIY camper van kit.
Tired after a long day exploring? Sink into one of their plush custom-made seats—a godsend during extended trips. And let's talk about sleep: With comfy sleeping systems tailor-made for different types of van, good night rest becomes as guaranteed as sunsets on this side of paradise.
Now onto another game-changer: multi-functional tables perfect for working remotely or serving up meals. These are designed to fit perfectly into the interior layout, making your van not just a vehicle but a comfortable living space too.
Remember folks, investing in quality accessories is key when converting an ordinary van into an extraordinary home-on-wheels.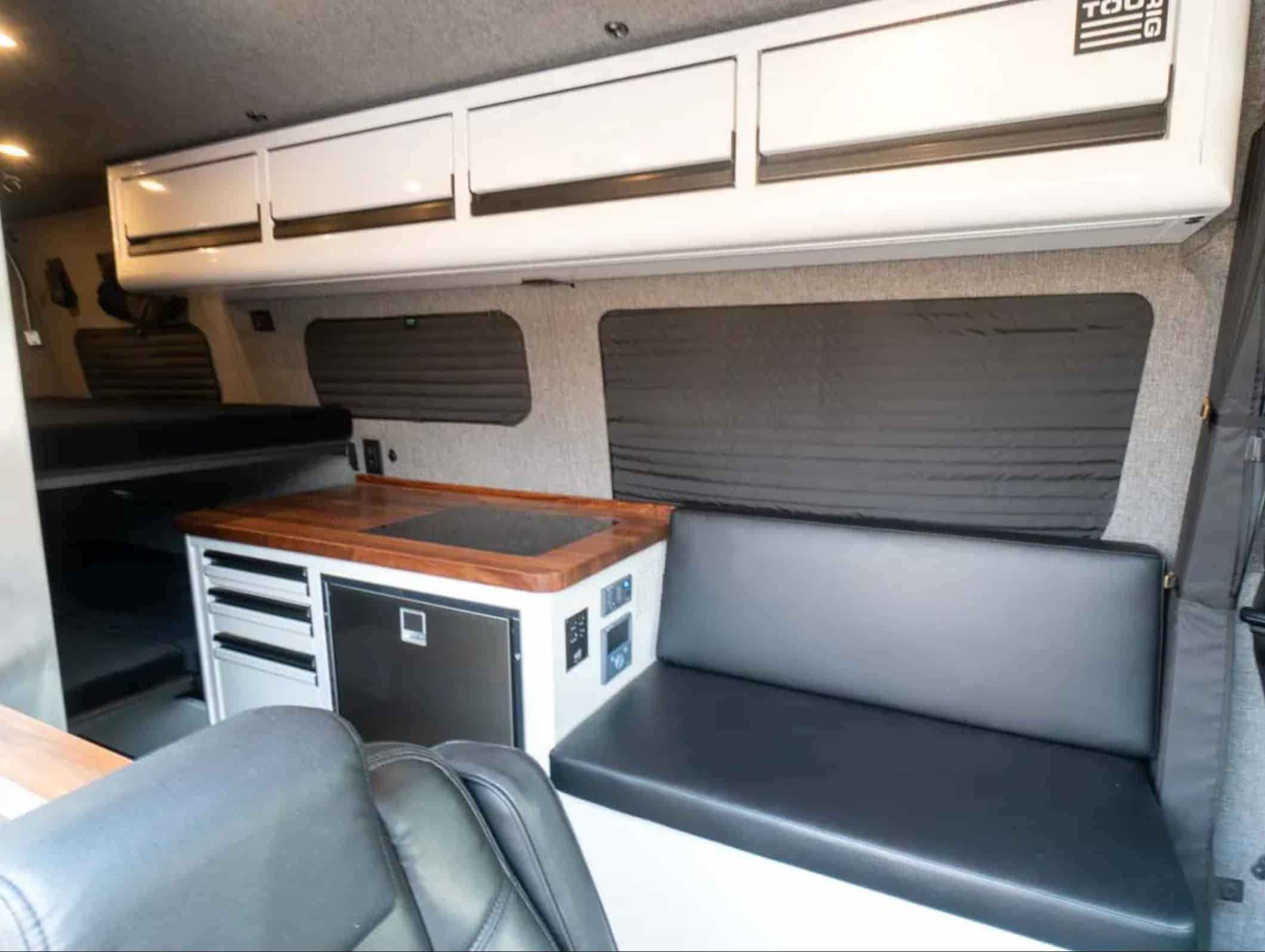 Image Credit: TouRig
Key Takeaway:
Customizing your camper van to fit your lifestyle is essential. Brands like TrailKitchens and TouRig offer innovative solutions for cooking, comfort, and functionality. From compact kitchen components that keep everything in place to plush seats and tailor-made sleeping systems for restful nights, these accessories transform an ordinary van into a cozy home-on-wheels.
The IKEA-Style Conversion DIY Van Kit by VanLab
Just like how IKEA revolutionized the furniture world, VanLab is doing wonders in the camper van scene. They've created an easy-to-assemble DIY camper van kit that's been a game changer for many.
VanLab's conversion kits are often compared to assembling an IKEA flat-pack. But don't fret, it doesn't come with those tiny Allen keys or indecipherable instructions.
Built for Everyone
If you can build a bookshelf, you're more than qualified to use these kits. With pre-cut and drilled components, assembly becomes less of a challenge and more of an enjoyable puzzle-solving experience.
This means even first-time converters won't need heavy-duty tools or professional help. No reason to not try it out.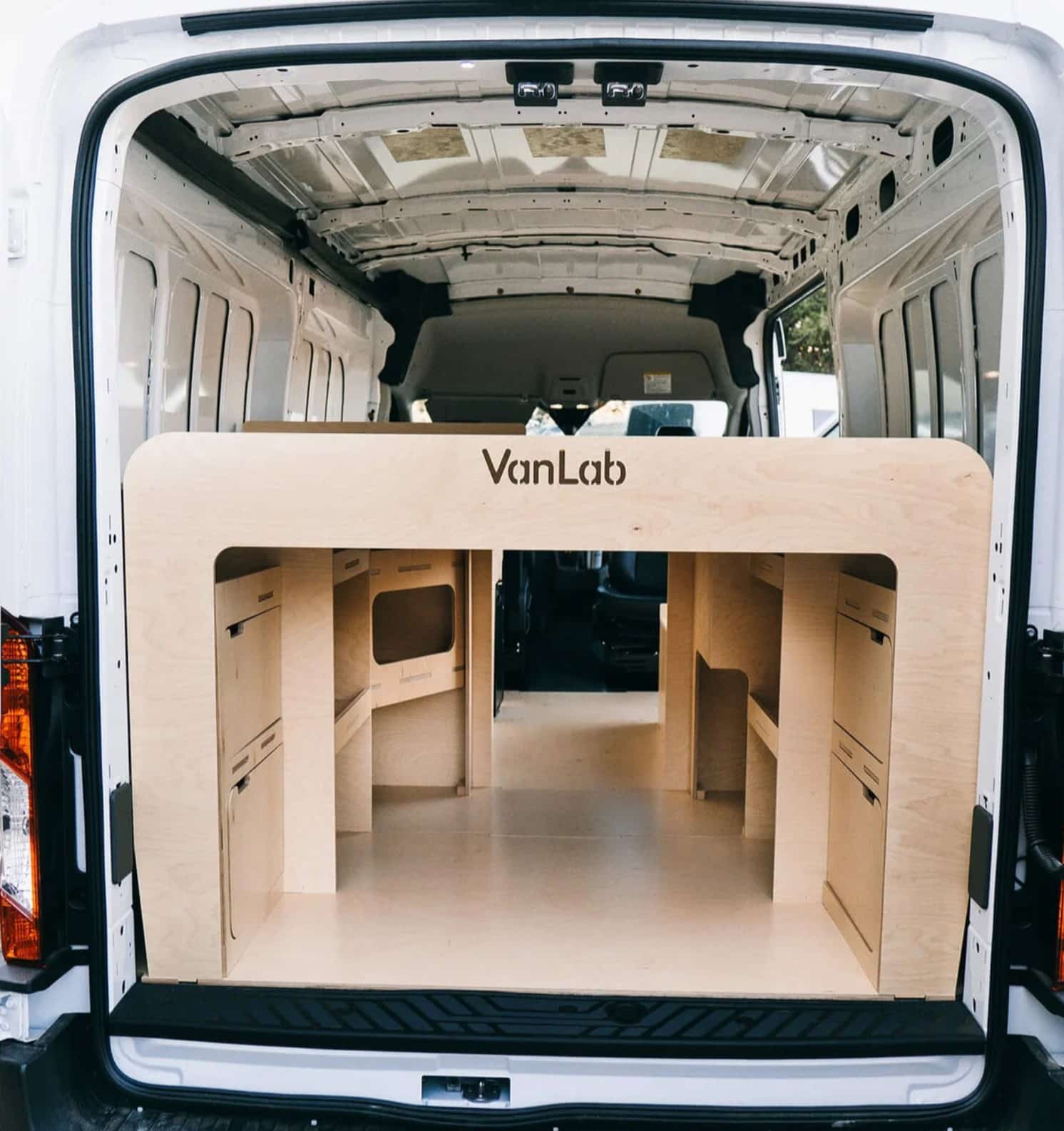 A Tailored Fit
All parts in this kit have been precisely designed using CAD software ensuring they snugly fit into your vehicle – whether it's Ford Transit or Mercedes Sprinter, or many popular SUVs! Their online builder is fantastic for visualizing your future dream van.
Made from high-quality birch plywood (just like most of your beloved IKEA pieces), the finished setup gives off Scandinavian vibes – minimalist yet cozy.
Clever Design Ideas at Every Corner
We all know what makes Ikea furniture stand out – clever design solutions that make life easier. VanLab has borrowed some ideas but also introduced its own innovations.
The bed platform easily converts into comfortable seating during daytime – perfect for reading books while sipping coffee.
Need to cook? Just slide out the kitchen unit and voila. You have a ready-to-use cooking station.
The storage compartments are not just spacious but smartly placed, so you can make sure your van stays clutter-free even during long trips.
Forget about hunting down lost socks or tripping over scattered equipment.
Key Takeaway:
VanLab's IKEA-style camper van kit is a real game-changer for DIY fans. It's simple to put together, tailor-made, and packed with smart design features that make it feel like a fun puzzle even if you're just starting out. Made from top-notch birch plywood and boasting genius space-saving ideas such as transformable bed-seating and pull-out kitchen units, this kit doesn't just fit your van—it enhances it.
FAQs in Relation to Best DIY Camper Van Kit
Is it cheaper to build your own camper van?
You can save some bucks by doing a DIY conversion, but costs vary based on the materials used and complexity of the design.  But keep in mind, these components add up!  It's easy to forget about the small components that nickel and dime you.  Things like extra batteries, water pumps and storage, solar panels, faucets, etc.  For basic builds, these kits are definitely the way to go.  Want a full-scale Class-B RV that compares to a Winnebago Revel or others?  It may be cheaper to find a smaller company like Brooklyn Campervans  to piece it all together for you.
What is the best van to convert to a camper?
Ford Transit, Mercedes Sprinter, and Ram ProMaster are top choices due to their size, reliability, and easy availability of conversion kits. Ford and Mercedes offer 4×4 and AWD, but the Ram Promaster has a lower floor and an ultra-reliable V6 gas motor.
How much does a DIY campervan conversion cost?
A basic setup might run you about $10k. But for more bells and whistles expect anywhere from $20k-$80k.
What is the best material for camper van walls?
Plywood reigns supreme because it's lightweight yet sturdy. Just make sure you go with marine or furniture grade ply for longevity.
Conclusion
Congratulations, you're now equipped with the roadmap to unlock your dream of the ultimate mobile sanctuary. The beauty of a DIY camper van kit lies in its power to fuse your unique vision with professional-grade materials and design.
Remember, your van isn't just a vehicle; it's a lifestyle statement, a freedom machine, and most importantly, your home on wheels. So why settle for anything less than a living space that reflects who you are? Go ahead, choose a DIY camper van kit that resonates with your spirit, and let the adventures begin.
Ready to hit the road? Your van life odyssey is just a click away.