Are you thinking of using a scooter as your primary mode of transportation? Want to know the scooter pros and cons?
Kayla and I are currently using a 2006 Taizhou 250CC Scooter as our main vehicle to get around. We're towing it on the back of our 31′ 2006 Four Winds Chateau Class C Motorhome. We've spent a pretty good amount of time on the scooter and traveled some long distances.
Whether you're full-timers like us or you live in a city, I think we've got some good insight for you. Here's what we've learned.
The Pros of Using a Scooter as Your Main Vehicle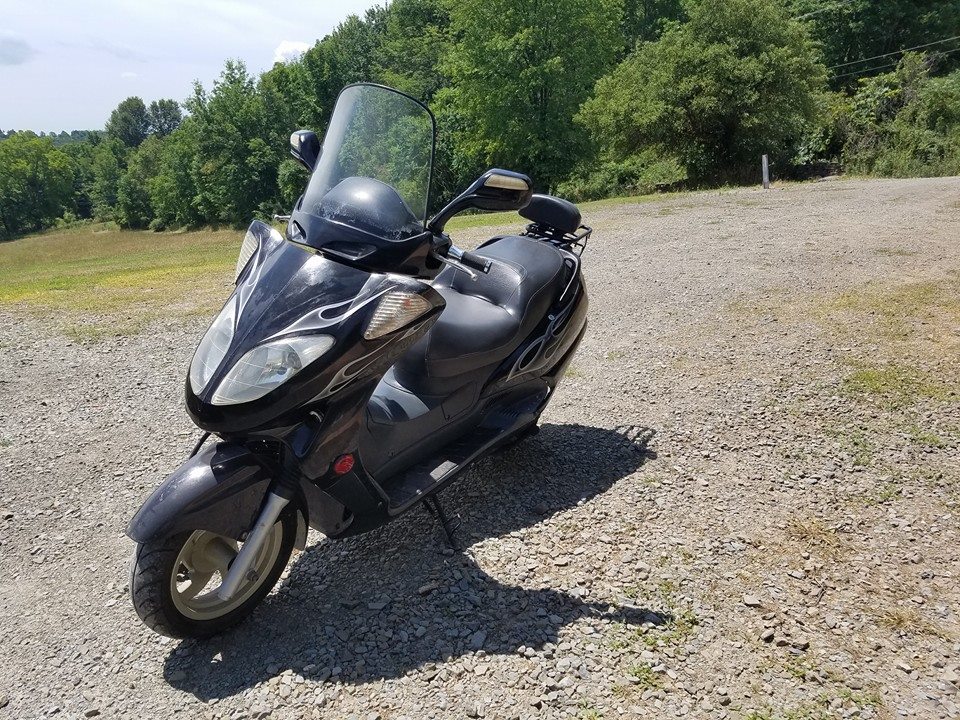 The reasons we decided to purchase a scooter are:
Incredible gas mileage. We get about 60 mpg on our scooter. It only costs about $4 to fill the tank, and that will get us at least 200 miles.
Really cheap insurance. Our scooter insurance is a measly $75/year.
Easy to find parking. We can fit almost anywhere with our little scooter. When we do need to go to a garage, all-day parking is usually cheaper than parking a full car.
It's a lot of fun! Driving a scooter is really freeing. You get to feel the wind and the road much better than in a car.
It's easy to tow. If you're living in an RV like us, you've probably considered towing a vehicle to your motor home (unless you have a pull-behind). Scooters are super easy to tow and you can barely tell they're there.
When towing it doesn't increase toll costs. Again, for us fulltimers, we hit a lot of tolls while traveling. Because towing a scooter doesn't require an additional axle on the ground, it doesn't increase toll road costs.
It can make you more active. Have you ever thought about walking somewhere, but drove instead? With our scooter, we've actually done the walking instead of grabbing the scooter. It's helped us become quite active.
The Cons of Using a Scooter
While a scooter can be great, there are some cons to consider:
Little storage space. While there's a lot you can do to increase the storage space of your scooter, it's still very limited.
It can limit the routes you take. Our scooter can do up to 50 mph without any problem, and even up to 70 if need be. However, I don't like pushing it past 50 because it's in the red zone on the speedometer. I also don't like taking highways on it. Therefore, you may have to find alternate routes.
You need a motorcycle license. Anything over 50CC requires one.
It's more dangerous than a car. You have to constantly be alert when driving a scooter. One wrong move can do some serious damage.
You have to wear a helmet and safety gear, which can be expensive. OK, you don't have to. But did you see the last bullet? If we take a spill, I want to be protected.
It can be uncomfortable on long drives. Sitting on a scooter seat for more than an hour or two is not fun.
The Verdict: We Want Something Else
Ultimately, we miss having four wheels, comfortable seats, and storage space. Kayla took a spill on a dirtbike when she was younger that put her in a full body caste. Ever since, she's been scared of driving on two wheels.
I think one of the biggest reasons we wish we hadn't bought a scooter is the scooter we bought. I think we got a really bad deal. The scooter was in bad shape and we over-payed. In fact, we broke down over 100 miles from our campground with it once.
If Kayla never got in that accident and if we got a scooter in better shape, I think we'd be happier with this purchase. However, we'll be selling the scooter and getting a used car to tow behind us as soon as we get back to PA.
I hope you've found these scooter pros and cons helpful!
Do you have a scooter? Do you like it? Let us know in the comments!
Read Next: 100+ RV Storage Ideas
(Last Updated On: February 26, 2021)