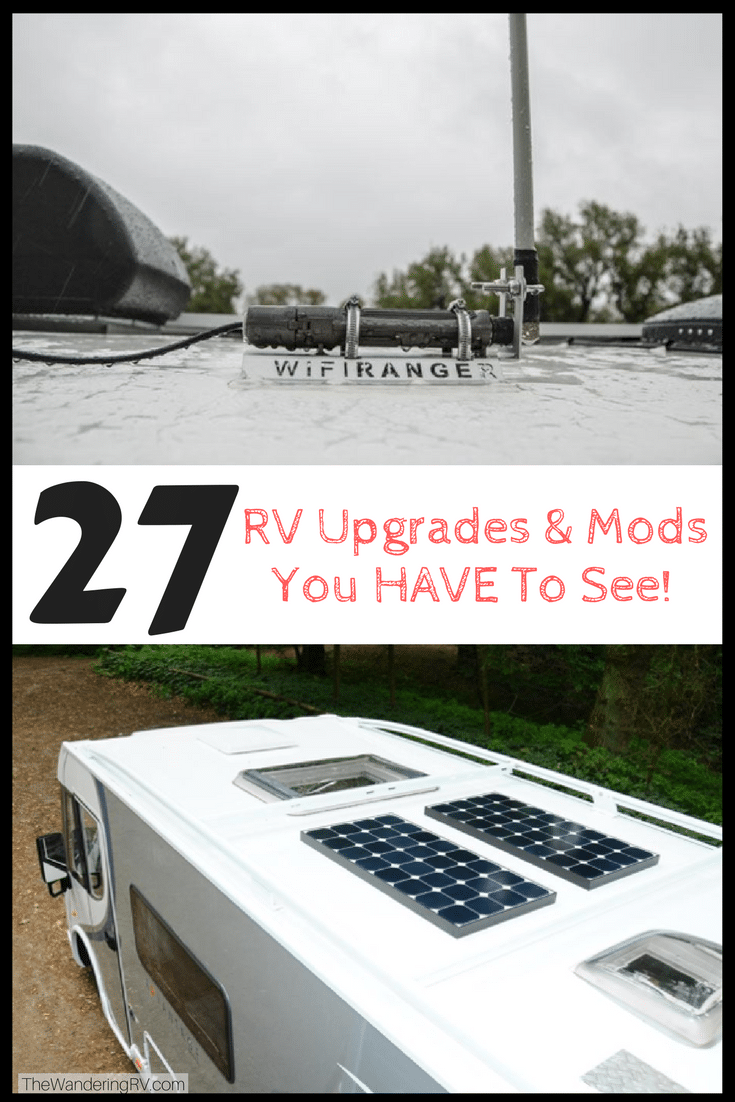 So you've got your RV and you're ready to upgrade it with all the cool mods and hacks?
You're in luck! We've found 27 fun ideas to mod and upgrade both the interior and exterior of your RV for storage, entertainment, looks, and more.
Plus, we have step-by-step guides so you can DIY any cool RV hacks you want!
Let's dive in!
Table of Contents
The Dyrt Camping App
Find free camping with a public lands map
Up to 40% off select campgrounds
First 30 days free with code "TWRV"
Recommended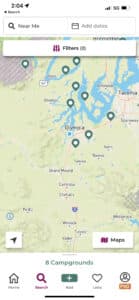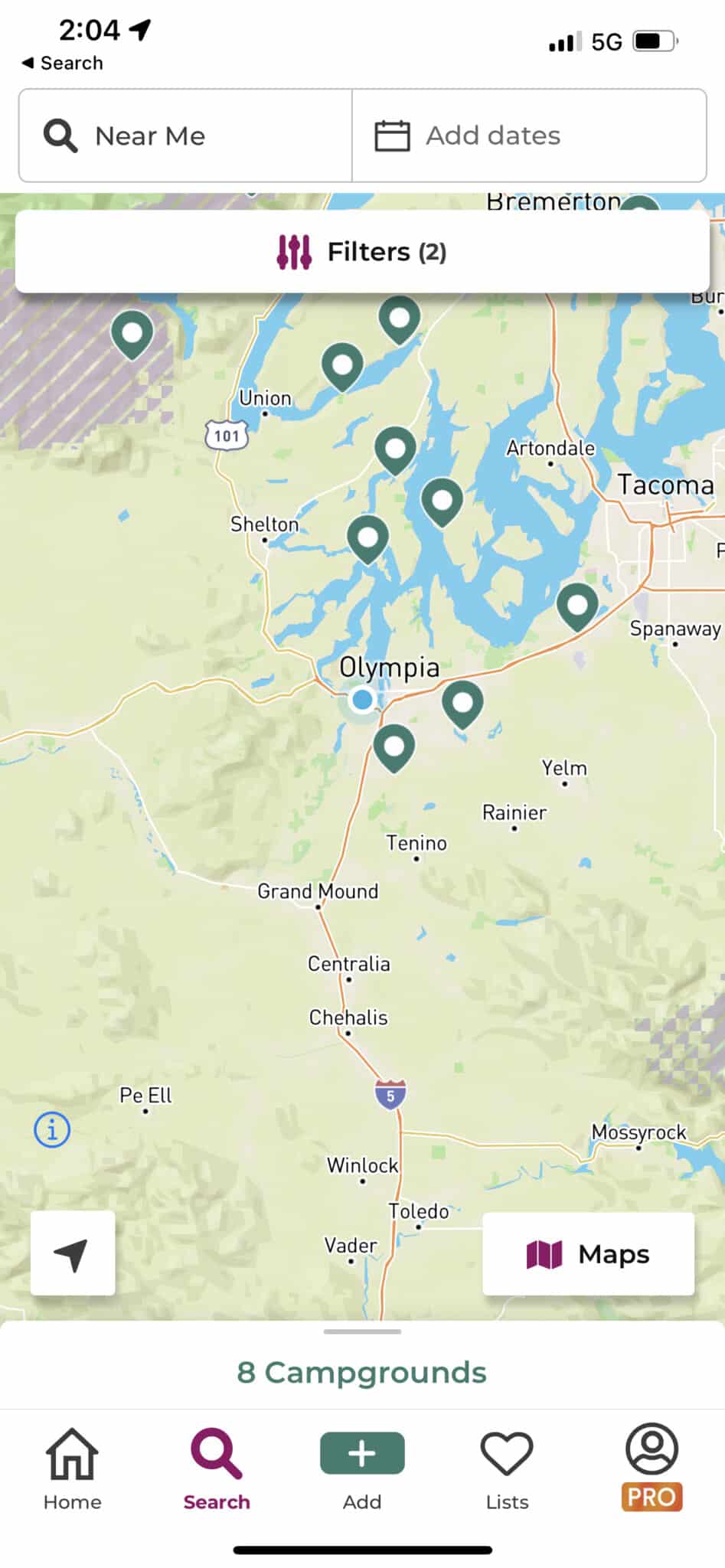 Note: Some of the links in this article are affiliate links. This doesn't cost you any more than normal. Read our disclaimer for more info.
27 RV Upgrades Too Good to Pass Up
Here are the killer RV upgrades we found:
1. Get a New RV Mattress
RECOMMENDED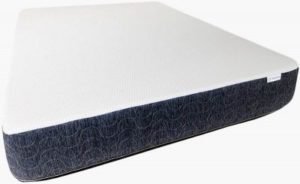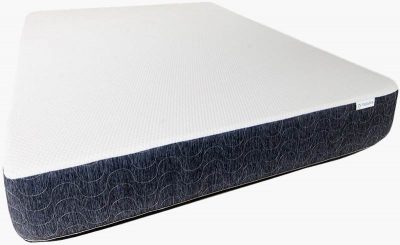 Custom RV Mattress
3 choices: Value, Premium or Dual Zone Adjustable
Fits Any RV
Far More Comfortable Than Traditional RV Matresses!
Time to complete: Less than 10 minutes
Difficulty: Easy
Cost: $199-$496+
If you've spent any amount of time in an RV, you know the mattresses they come with… kinda suck.
Luckily, there are custom RV mattress companies like Mattress Insider! They can build you a mattress to match any RV, camper, or travel trailer. And they have three options:
A value mattress (still way better than the one your RV came with).
A premium memory foam mattress.
A luxury mattress.
2. Ditch the Carpet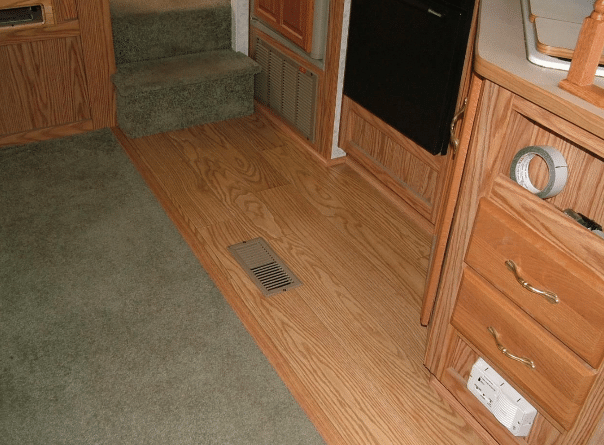 Time to complete: 2+ hours (depending on how big your RV is)
Difficulty: Hard
Cost: About $2-$5 per square foot
Whether you buy a new or used RV, the first thing I'd suggest is to ditch the carpet. Laminate floors are easier to clean and, in my opinion, they look much better.
Think about where you'll be traveling to. The mountains? The beach? Wherever you go, chances are you'll end up bringing dirt (or sand) into your RV. These particles can get trapped underneath your carpet and can be a royal pain to get out.
Our friends over at the Fun Times Guide share how to remove RV carpet correctly.
3. Solar Power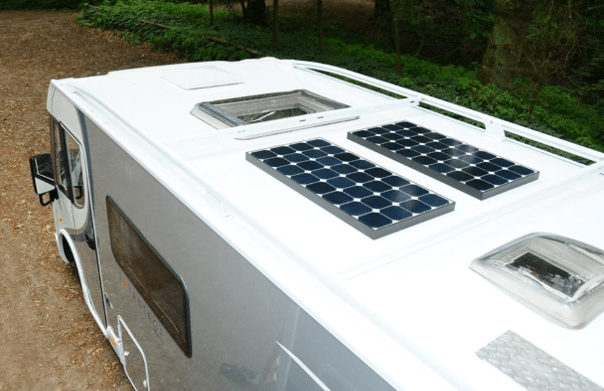 Time to complete: Less than 2 hours
Difficulty: Medium
Cost: $500+
If you're a huge fan of boondocking (or are interested in trying it), I'd recommend getting a few solar panels for the roof of your RV.
Not only will these solar panels charge your RV battery while boondocking, they derive clean energy from the sun which ends up reducing our dependence on fossil fuel.
4. Wireless RV Backup Camera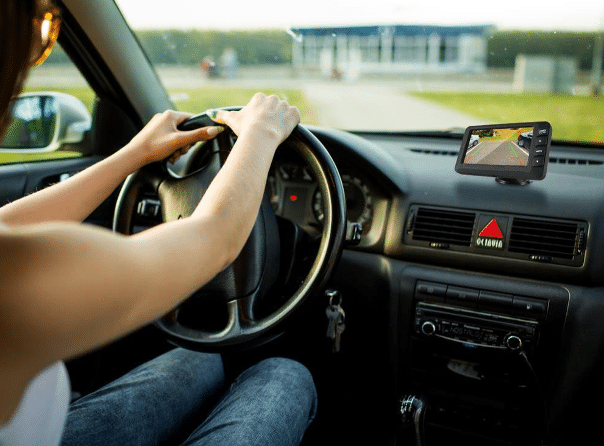 Time to complete: Less than 10 minutes
Difficulty: Medium
Cost: $50-$400 (Depending on quality and number of cameras)
Want to view some of the best RV backup cameras in 2021?
Backing into a campground site is a pain in the butt. Hell, backing up anywhere in an RV is a pain! (Don't even get me started on fifth wheels.)
While a rear view camera may be a bit pricey, it's definitely a must-have RV product for those who feel a bit uneasy backing into tight corners.
There are tons of rear view cameras you could purchase, but here's the best-rated camera on Amazon.
5. Let There Be Light… Under the Bed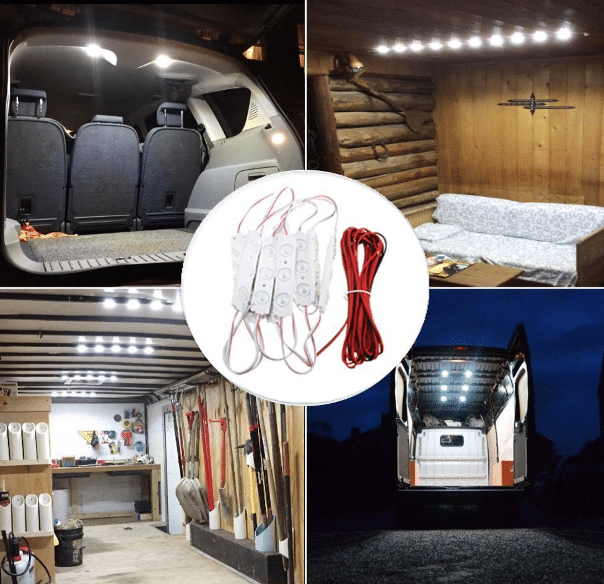 Time to complete: Less than 10 minutes
Difficulty: Easy
Cost: About $10+
In most RVs, the master bed lifts up and has extra storage space – score!
However… there aren't any light bulbs under the bed (because, why the heck would there be, right?).
Installing a light (or a row of LED string lights) will help you navigate your way around when it's a bit darker outside. Especially if you have a toy hauler and like to take your toys out at night.
You can also install some nice colored lights under your awning to give you some better lighting at night (or throw the coolest RV happy hour in the campground).
6. Counter Extensions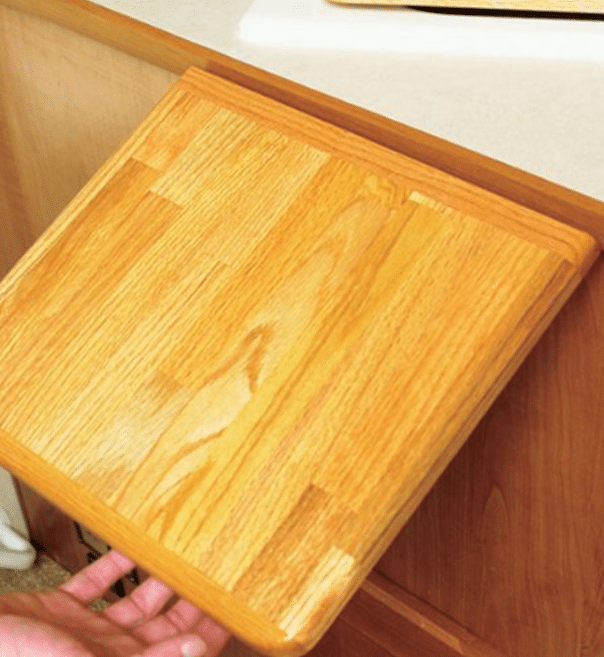 Time to complete: 20-30 minutes
Difficulty: Medium
Cost: $15+
One of my biggest gripes when it comes to RVs is the lack of counter space in the kitchen. I love to cook (I even made a cooking blog to share my recipes with the world).
Some fifth wheels have an island which gives you more space to prepare and cook your food, but Class As, Bs, and Cs have barely any extra room. Which is why counter extensions are a great buy.
These counter extensions have an oak accent which will work beautifully if your counter tops also have an oak finish – however, you can purchase plain counter tops to blend in with any design you currently have.
7. Chalkboard Fridge Door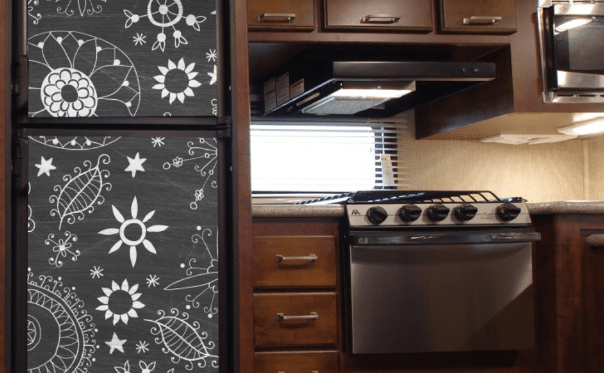 Time to complete: About 2 hours
Difficulty: Easy
Cost: $15+
One of the first things Bill and I did when we bought our RV was use chalk paint on one of our RV fridge doors.
It came in handy when we were packing up the campsite, going for groceries, and when we just needed to write something down.
We used this type of chalkboard paint, but there are plenty of options out there if you'd like to look around! 🙂
Quick RV Tip: Chalkboard paint makes an awesome addition to your RV. However, if you find that the dust from the chalk bothers you too much, there are ways to get rid of it! Check out this article by Sandpaper and Glue for more information!
8. New Storage Bay Locks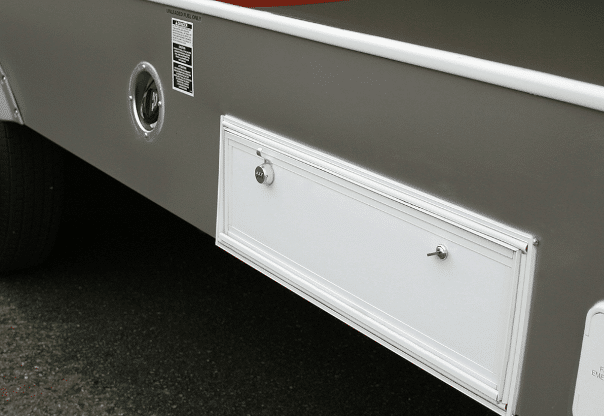 Time to complete: Less than 20 minutes
Difficulty: Easy
Cost: $20+ depending on the lock you choose
Believe it or not but your storage bins might be open to the general public…
…at least, open to people who have the same RV key as you. If you have a key marked "CH751" your storage bay units can be opened by basically anyone who has the same key!
Our friends at Motor Homes 2 Go wrote an article explaining how to properly change out your current lock with a safer alternative.
Here's an example of what you'd want to get to differentiate your lock from the rest!
This is especially important if you live in your RV and plan on staying at lots of campgrounds across the US.
9. Switch Out Your Lights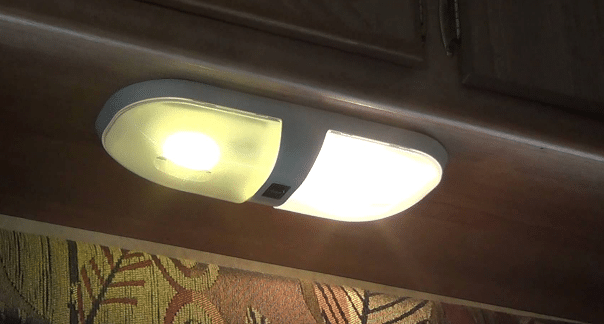 Time to complete: Less than 10 minutes
Difficulty: Easy
Cost: $10+
LED light bulbs consume up to 90% less power than incandescent bulbs and have up to a 22-year life span.
They're also eco-friendly, 100% recyclable, are able to be dimmed, and produce little infrared light.
If I were you (and didn't have LED lights already), I'd get some LED lights today.
10. Bulk Up Your Inverter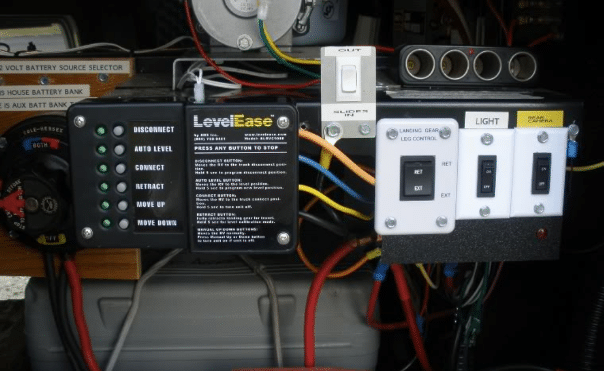 Time to complete: About an hour
Difficulty: Hard
Cost: $100+
Like the solar panels, this is another must-have for those interested in boondocking or dry camping. Bulking up your RV or travel trailer inverter will allow you to store more electricity for longer periods of time.
Take a look at this video to get a better understanding of how to upgrade your new inverter:
11. Increase Your Battery Capacity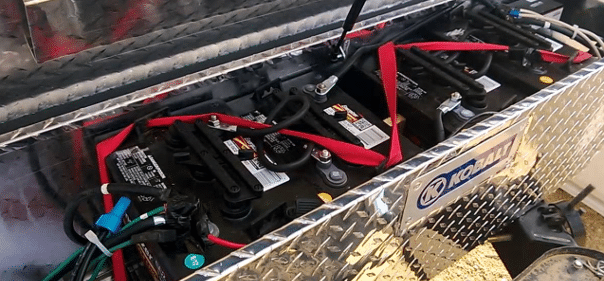 Time to complete: Depends on how many batteries you decide to get!
Difficulty: Medium-Hard
Cost: $115+
While most RVs come with two heavy duty batteries, some people need more (I'm talking to you, boondockers).
It's pretty self-explanatory as to why you'd want multiple batteries while traveling – you don't want to run out of electricity!
Plus, it doesn't hurt to have backup batteries, right?
These batteries are awesome to have and are definitely worth the price. If you need help installing them, check out this guide.
Quick RV Tip: Even if you don't want to bulk up your battery life – we recommend purchasing at least one (if not two) spare batteries before hitting the road. You never know when you'll need it!
12. Digital Thermostat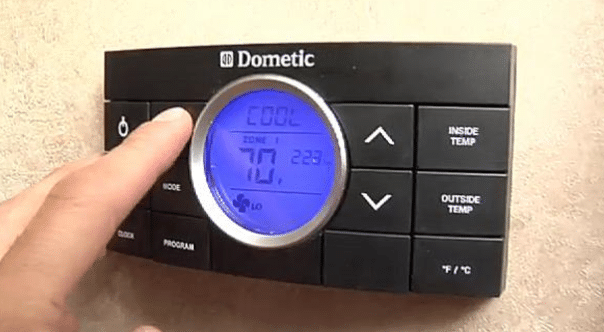 Time to complete: Less than 2 hours
Difficulty: Medium
Cost: $75+
A digital thermostat is able to give you more power (and more precise) temperature control in your RV.
Unless you buy a brand spanking new RV with an updated thermostat, you'll probably have a rinky-dink one that isn't always accurate on the exact temperature.
While there are plenty of thermostats to choose from, we recommend this one.
13. DIY Towel Rack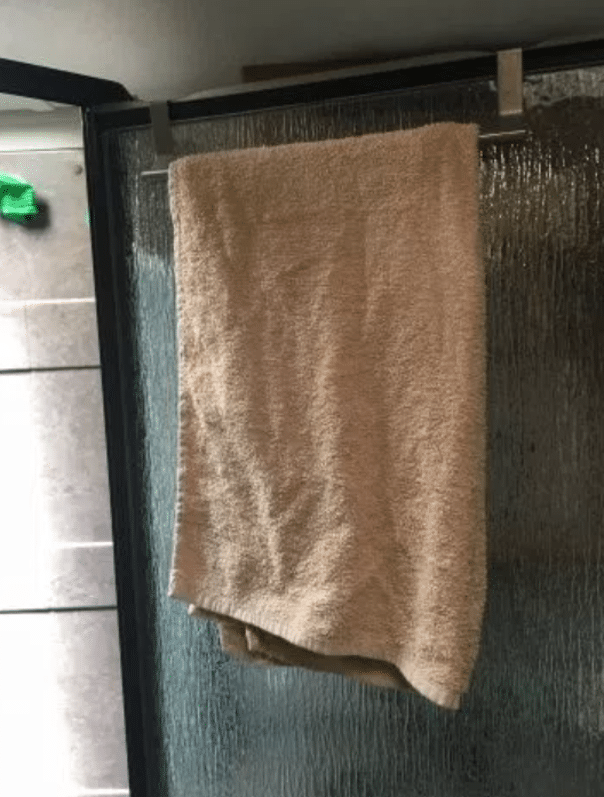 Time to complete: Less than 5 minutes
Difficulty: Easy
Cost: $3+
You may have seen this one in our RV accessories post – but it's one that we couldn't leave out here.
Apart from the kitchen counter flaw, RV manufacturers never seem to put in enough towel racks in the bathroom!
I'm not complaining though. Towel holders are incredibly easy to install and are super cheap. Some towel holders simply hang over the door!
There are tons you can choose from, but Bill and I went with this particular one.
14. Shoe Storage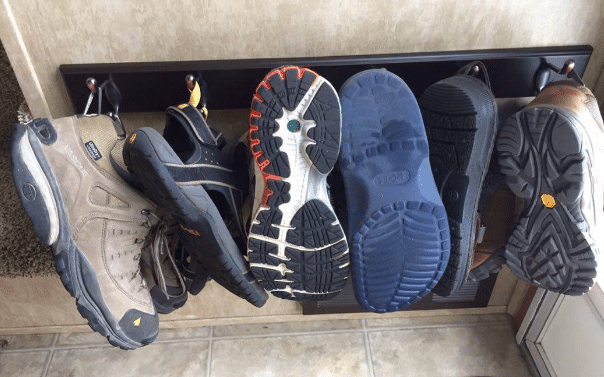 Time to complete: 10 minutes
Difficulty: Easy
Cost: $5+
Guys… this is a game changer. Do you know how many times Bill and I have tripped over each other's shoes? Not anymore!
The installation for this shoe rack was stupid easy too.
We purchased a small coat rack and hung our shoes up onto it! We totally recommend this for RVers who have tons of shoes (especially anyone who has children that leave their shoes laying around).
15. Replace Your Shower (and Faucet) Heads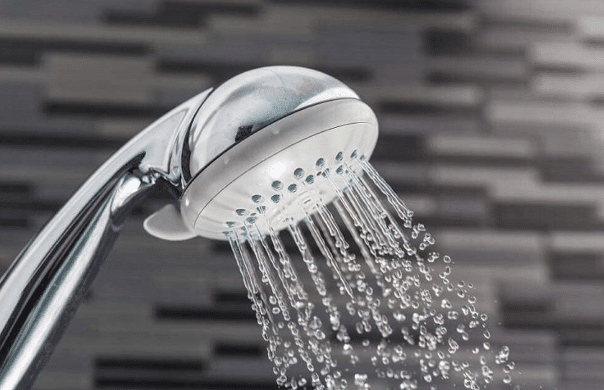 Time to complete: Less than 1 hour
Difficulty: Medium
Cost: $10+
I don't know about you, but I love taking long showers. The warm water is great but the water pressure is what makes me stay in.
RV shower heads are pretty terrible. The water pressure is dull and, in our case, there was only one setting to choose from.
What does that mean? Upgrade! This shower head worked perfectly for us – but there are plenty to choose from!
16. Pull Out Garbage Can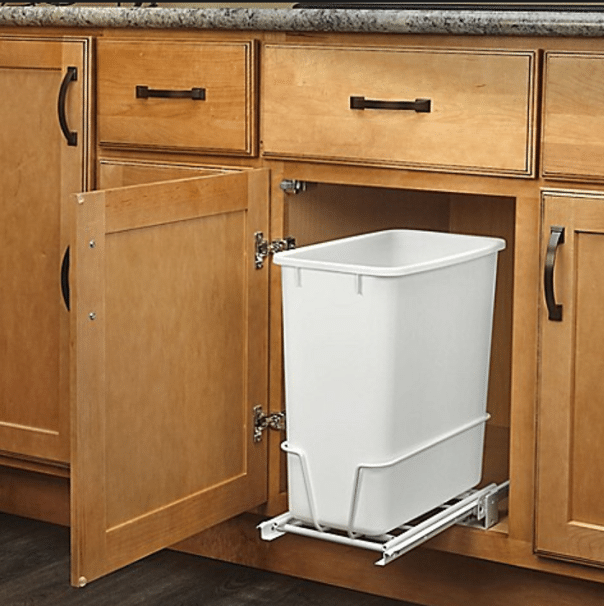 Time to complete: Less than 20 minutes
Difficulty: Easy
Cost: $20+
Finding a good spot to put your garbage can in your RV can be a major pain in the butt. However, this under-the-counter mod is easy to install and will come in handy whether you're on or off the road!
Trust me… you don't want to be that person who forgets their full garbage is still out in your kitchen as you're cruising down the highway…
This pull out garbage can is what we use now and we love it!
(You can also install bungee cords to hold your trash can in place if you don't have the shelf space for the pull out can, like we explain in our RV organization guide.)
17. Bumper Mount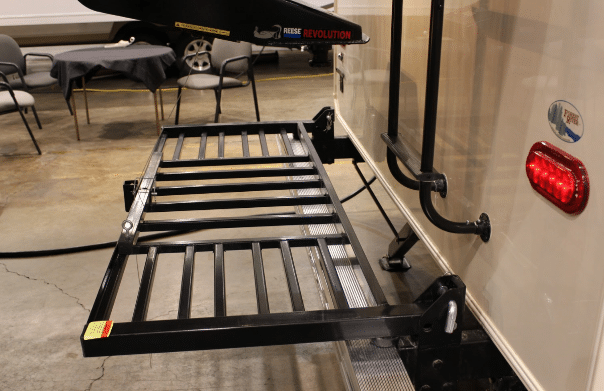 Time to complete: Less than 2 hours
Difficulty: Medium
Cost: $100+
If you're not towing a car behind your RV, a bumper mount may be the best thing for you.
These are perfect to store extra totes, bikes, even kayaks!
This bumper mount is one of the best and holds up to 600 lbs. We definitely recommend picking one up for yourself – you never know when you might need it!
18. Unlimited WiFi
Roadlink Unlimited RV Wi-Fi
Get Wi-Fi From Almost Anywhere!
Unlimited Data Plans Starting At Just $30 Per Month
Easy to Install
RECOMMENDED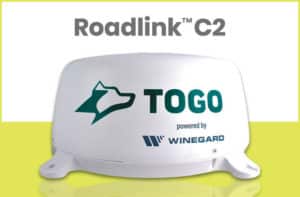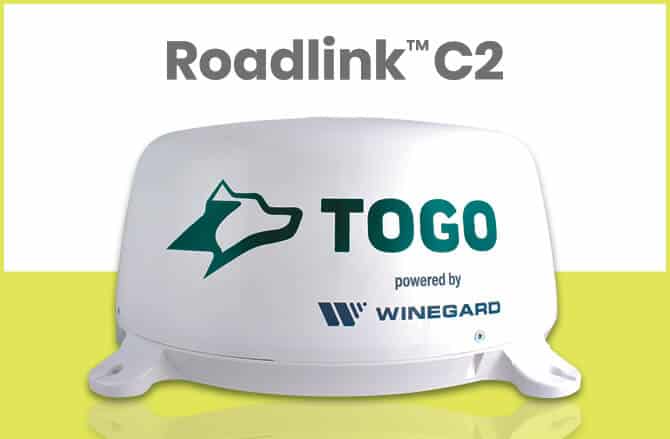 Use code "WANDERINGRV" for 1-Year of Roadtrippers Plus for free!
Time to complete: Less than 2 hours
Difficulty: Medium
Cost: $399
Unlimited WiFi was a must for Bill and I because we work from our laptops, and picking up internet on the road is very difficult without having your own built in.
Not only can you get unlimited data when you buy a Togo Roadlink, but you also get your own connection – meaning you don't have to worry about people stealing your information from public WiFi!
They're pretty easy to install, but if you're not comfortable with it, most RV dealerships will do it for you for a small fee.
19. Better Stabilization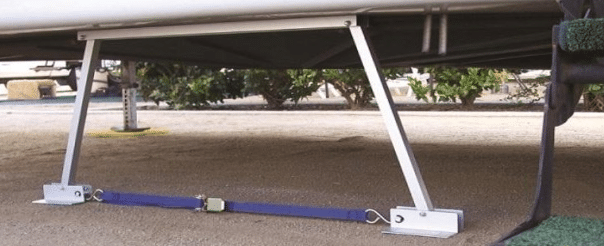 Time to complete: Between 10-20 minutes
Difficulty: Medium
Cost: About $40+
Sometimes, you need a bit more stabilization than you're given. Especially on days when you're trying to sleep in and your partner is doing jumping jacks in the living room because it's raining outside… (Looking at you, Bill!)
Luckily, you're able to find stabilization rods that are easy to install on Amazon. These are well worth the money (and if you're a light sleeper, I definitely recommend them).
These exact stabilizers can be purchased here.
20. New and Improved Shelving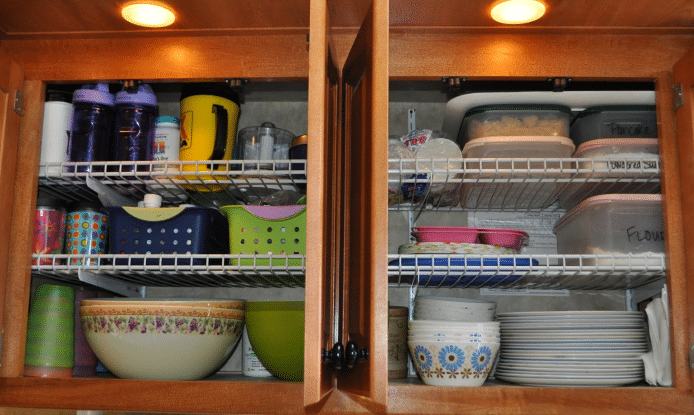 Time to complete: Between 5-10 minutes
Difficulty: Easy
Cost: Depending on how man you purchase, $20+
Raise your hand if you've struggled to find room to store dishes, food, and other necessities in your RV cabinets.
Us too. It used to be a daily struggle! One day, Bill and I decided to add in a few extra shelves and voila! We had more room to work with.
This mod may be small but it's definitely significant!
We'd suggest getting wire shelves – they're easy as pie to install. You can also use them in your bathroom cabinets to hold towels and other small things.
21. Shampoo and Conditioner Holder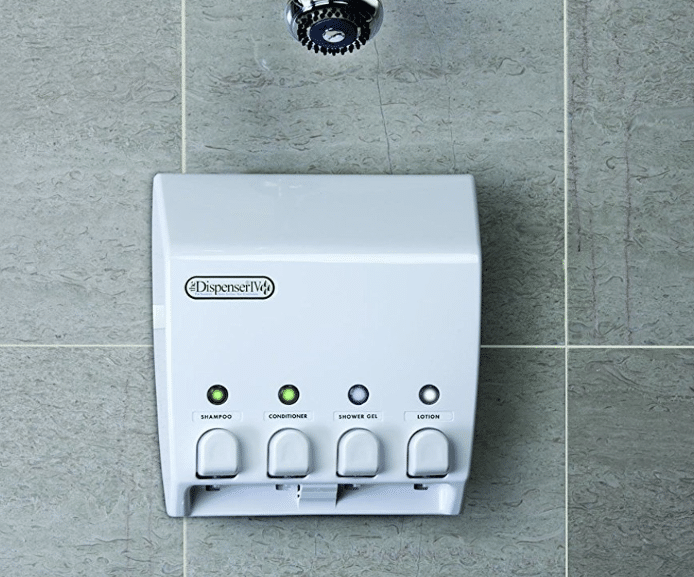 Time to complete: Between 20-30 minutes
Difficulty: Medium
Cost: $20+
This shampoo and conditioner holder is truly a game changer. Bill and I weren't super lucky in the bathroom department (there just wasn't enough space for our stuff!).
We did, however, have one of these dispensers. For that we were super thankful. They're easy to fill, clean, and save a lot of room!
You can get one pretty cheap too! This one in particular comes with four dispensers and doesn't break the bank!
22. Create the perfect workspace

Time to complete: About a day or more
Difficulty: Hard
Cost: In total over $100+
Our friends over at RV Love have the right idea! If you happen to buy an RV with bunk beds but don't have children (or have any use for them in general) you could convert the space into a personal office!
23. Under-the-Counter Spice Rack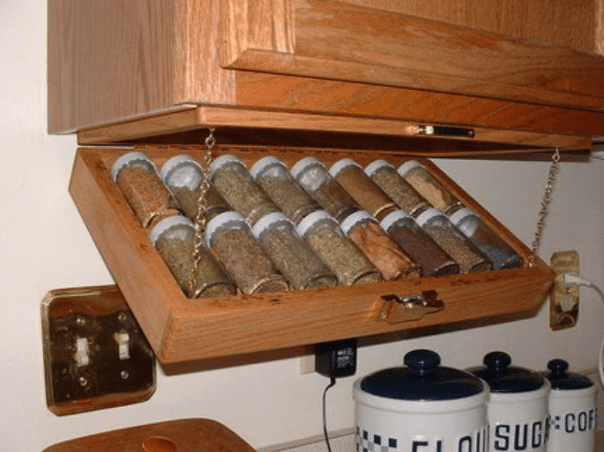 Time to complete: About 2 hours
Difficulty: Medium
Cost: $25+
This RV mod came from our friends over at Lumber Jocks and we're so in love with it. Can you imagine how nice it would be to free up some counter space with this mod?
Hell, it would even save space in cabinets! A lot of RVers we've met hide their spice rack in their cabinets, but that doesn't leave much room for pots and pans!
24. Upgrade Your Sewer System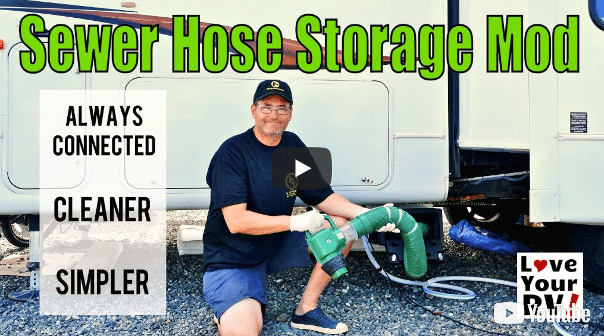 Time to complete: About a day (maybe longer)
Difficulty: Hard
Cost: $25+
Our friends at Love Your RV have some genius ideas when it comes to RV mods. This one, in particular, is something that we feel every RVer should do.
Dealing with a sewer system is one of the nastiest jobs you'll face when RVing (in my personal opinion) and I think the sewer hose is a pain in the butt to deal with.
With this mod, however, Ray teaches RVers how to better handle this dirty job.
25. RVSkampcan (A must have!)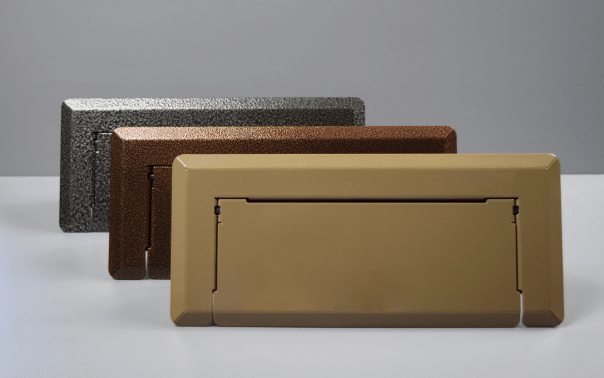 Time to complete: 1-2 hours
Difficulty: Medium
Cost: $40
It's no surprise that our RV floors collect more dirt than we'd like them to. Thanks to this awesome company, we can now install a dustpan into our floor!
It's fairly easy to install and you're able to empty it at any time!
26. Upgraded Vent Fans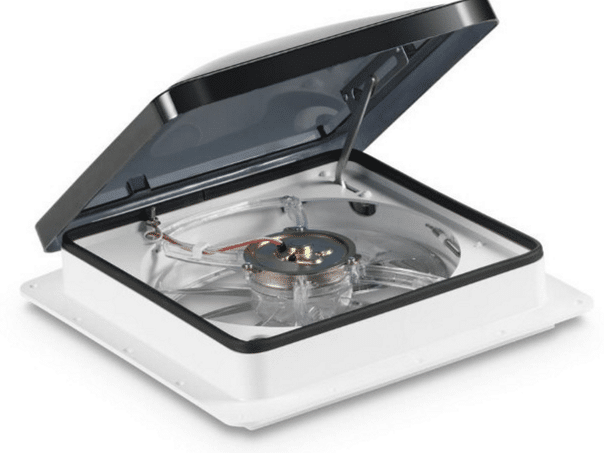 Time to complete: 1-2 hours
Difficulty: Medium
Cost: $150-$200
RV vent fans can become worn, and many of the stock fans suck to begin with. These Fan-Tastic roof fans are quick and easy to install and super powerful.
Here's a how-to video by our friends at RV With Tito:
27. Headphone Jacks For Your TV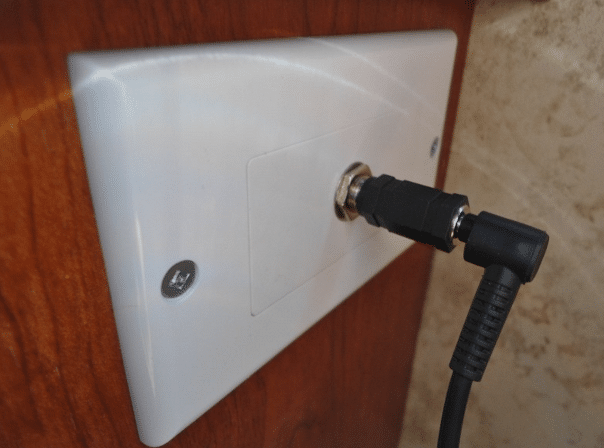 Time to complete: 1-2 hours
Difficulty: Medium
Cost: $20+
If you've ever wished you could use headphones to watch your trailer's TV, this is the RV upgrade for you.
Our friends at Love Your RV installed a custom headphone jack that runs in the wall, all the way from their TV to the back of their rig. Pretty cool!
You just need an extension cable, some simple tools, and a bit of patience.
And that brings us to the end of our RV mods and upgrades!
Conclusion
These RV upgrades will help you with everything from extra storage space to creating a solar powered rig ready for the wilderness! Some are quick and easy, others require some (OK, a lot) of patience.
If you're hankering for more ways to improve your RV lifestyle, check out this big list of 40 must-have RV products shared by 30 RV lifestyle experts. They've got everything from kitchen goodies to blue ox towing gear, electronics, and more!
Over to you: Leave a comment down below and share your own RV tips and tricks! Are you going to implement some of the ones we've shared?
Happy RVing 🙂